Eat and Drink
|
mbl
|
Wed 9 Jan 2019
|
12.34 GMT
New restaurant, Systir, opens on Hverfisgata instead of nameless pizza place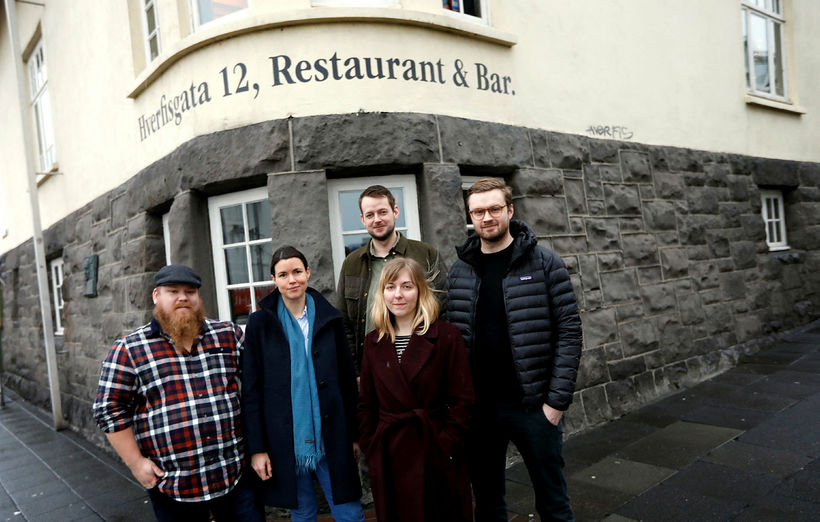 The team at Systir from left to right: Andreas Peterson, Sona Zednikova and Karin Schmitz with chefs Kári Þorsteinsson and Ólafur Ágústsson. Iceland Monitor/ Eggert Jóhannesson
"We simply wanted to make a change and to continue into the direction of Dill," says chef Ólafur Ágútsson one of the owners of the restaurant at Hverfigata 12 formerly known as the nameless pizza place.
A new restaurant, Systir (sister), will open in the same premises this Thursday. "We have the resources and talent for the cuisine that has made Dill distinctive and we wanted to connect the two restaurants better," he explains.
For those unfamiliar with Dill, it's a restaurant located on the ground floor of Hverfisgata 12 and it's the only restaurant in Iceland with a Michelin star. It has also been selected Iceland's best restaurant on several prestigious listings such as White Guide Nordic, Nordic Prize and more. It's fame is such that the restaurant is booked up months in advance.
True to the new Nordic cuisine of Dill
The nameless pizza place held a firm seat as one of Reykjavik's hippest eateries and has been selected Reykjavik's best pizza place several times by the Reykjavik Grapevine. Won't it be sorely missed? "Yes, it's going to be missed by a lot of people but we hope that our clientele will appreciate the changes and keep coming to the venue," Ágústson replies. "We're going to keep to the same pricing as the pizza place and the interiors won't change, there's still going to be that same cozy atmosphere that people love, we're going to focus on great beer and cocktails so that people can enjoy a long evening at the restaurant."
Ágústsson will become head chef of Systir along with Kári Þorsteinsson who is also head chef at Dill. The name, Ágústsson explains, simply comes from the fact that this is Dill's sister restaurant. "And it's a nice Icelandic word. We will be getting a new logo and new marketing and we'll be true to the new Nordic cuisine that Dill is famous for. We won't however, let geography get in our way if we want to jump off that bandwagon occasionally. But the main ideology behind Systir is based on new Nordic cuisine, where Icelandic ingredients are used and ideas are sought to old traditions."
Craft beer and nature wines
Asked whether Systir seeks inspiration from restaurants abroad he replies,"In a way, yes. We're looking at chef driven wine bars such as the Four Horsemen in New York, Brutus og vin in Norway and Manfreds og vin in Copenhagen. Venues that place an emphasis on cuisine and great wines. We're taking our wine list from Dill and adapting it to the new place. We will offer craft beer, cocktails, nature wines, traditional wines. And our regulars at the pizza place will recognise a few of their favourite appetizers on the menu. Basically we've been flirting with these changes to the restaurant for a long time. We're also going to go back to having DJ's playing a wide variety of music on weekends and our popular Mikkeler bar on the third floor will remain exactly the same."
Dill will continue to run in the same fashion and is still fully booked far in advance and tables are hard to come by. "However we're pleased to announce that with these new changes we're changing the booking system at Dill which means you can only book one month ahead. This will give more Icelanders the opportunity to dine at Dill because actually it's mostly booked up by tourists months in advance."
But what about the pizzas, are there no pizzas on the new menu? "No, no pizzas," he says and laughs. "But you never know. Maybe we'll sneak in a pizza at some later point."
Systir opens at Hverfisgata 12, 101 Reykjavik on Thursday January 9th.