Eat and Drink
|
mbl
|
Tue 19 Sep 2017
|
15.00 GMT
|
Modified at 15.48
Review: A mouth-watering adventure at Sumac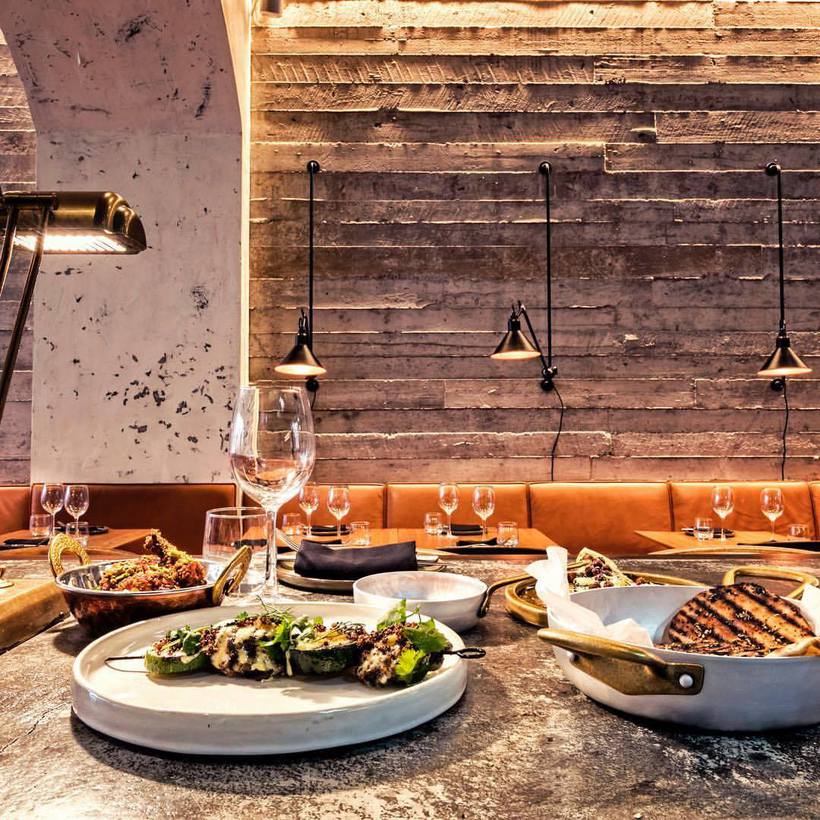 Sumac's interiors are designed by Halfdan Pedersen and juxtapose raw concrete walls with warm leather furnishings. Photo/Sumac
Anna Margrét Björnsson


It was with great anticipation that I finally dined at Sumac, on Reykjavik's main shopping street, Laugavegur. Middle Eastern food in Reykjavik simply doesn't exist, if you don't count the multiple kebab shops around town.
I have to confess that Lebanese cuisine is amongst my ultimate eating pleasures. I discovered Lebanese cooking in Paris years ago and have been yearning for a local Lebanese. Now, to make things clear, Sumac does not pretend to be an authentic Lebanese or Morrocan restaurant at all. Instead, chef Þráinn Freyr Vigfússon, who also owns the restaurant, seeks inspiration from these two countries, Lebanon and Morocco.
Vigfússon, who formerly headed the culinary team at the iconic Kolabrautin formerly at Harpa Concert Hall, bases the menu at Sumac on flame grilled food where exotic spices, yoghurt, marinades take centre stage. Sumac is of course named after the tangy, slightly lemon flavoured middle eastern spice sumac. And it's a spice that's generously used at the restaurant, as well as cumin, cinnamon, harissa paste and a host of other Middle Eastern flavours.
"I've had the idea for the restaurant since 2011," he explains. "I've been an enthusiast of Middle Eastern cooking for a while and I just wanted to bring something new to the Reykjavik culinary scene, something different, but using Icelandic ingredients."
The interiors at Sumac are designed by renowned set and restaurant designer Hálfdan Pedersen, who also designed the hip Kex Hostel downtown amongst other venues. Sumac offers a sophisticated, lively atmosphere where raw concrete walls are juxtaposed with pale leather furnishings and gold lights. "We were inspired by the interiors and atmosphere of Beirut, the city formerly known as Paris of the East," Vigfússon explains.
In the middle of the restaurant there's an open kitchen where you can observe the chefs working the grill and preparing dishes. It makes for a bustling, steamy, aromatic and interesting atmosphere, and you can also even sit on the counter of this open kitchen to either enjoy cocktails or eat. It's also worth mentioning that head chef at Sumac, Hafsteinn Ólafsson is one of the finalists for Iceland's chef of the year 2017.
For starters, my dinner companion and I enjoyed mouth-wateringly delicious hummus and muhammara (a dip made with almonds and red peppers), crispy falafel and plump, juicy green olives. These meze-type starters were served with wonderful freshly baked flatbread and a glass of organic Spanish rosé.
Next up, a grilled romaine salad, (who knew that grilled lettuce could be so delicious) with goats cheese, chick peas and sumac aioli. My companion had a more Nordic inspired dish of fresh Icelandic salmon with a fennel cream, accompanied by kumquat and coriander. Exquisite. These courses were accompanied by a Ksara white wine from Lebanon. I'm a total fan of Lebanese wine and it's such a joy to finally enjoy them in Reykjavik.
These courses were followed by another main, a sweetly aromatic take on the Icelandic lamb cutlet: served here with a dusting of lentils, almonds and grapes. This gorgeous tagine-ey-flavoured meat was accompanied by a glass of Lebanese Ksara red.
Our dessert was vanilla ice-cream with tyrkisk pepper ( actually a Danish licorice sweet), which you will love if you're a licorice fan, and a sticky date cake with spicy caramel and vanilla cream, served with a small glass of white port.
Sumac may not be your quintessential authentic street corner Lebanese, it's a modern fusion of Lebanese style flavours and Nordic flair using the freshest of Icelandic ingredients. An evening there is thoroughly recommended. It's elegant, fun and adventurous, the service is warm and impeccable, and it's most definitely my new favourite in town.
Sumac, Laugavegur 28. Reservations recommended.