Eat and Drink
|
mbl
|
Wed 22 Feb 2017
|
10.27 GMT
|
Modified at 10.47
First Michelin star for an Icelandic restaurant goes to Dill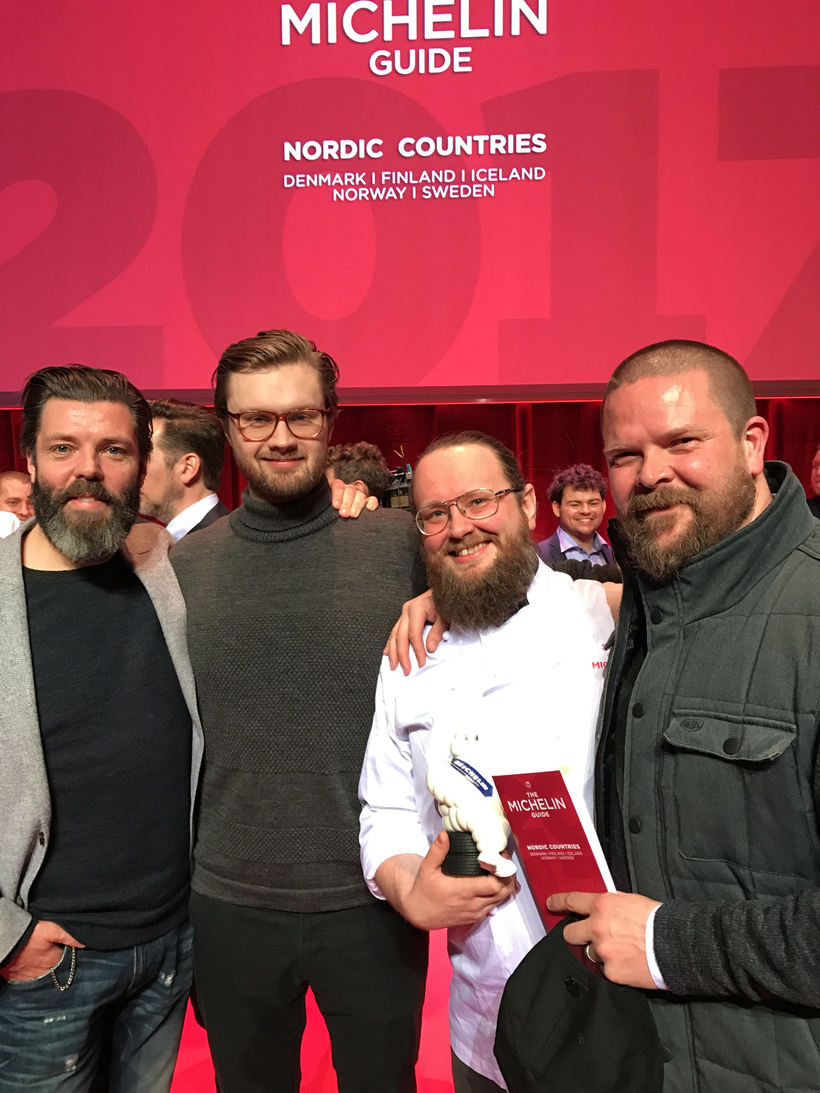 Owner Kristinn Vilbergsson, Ólafur Ágústsson managing director of Dill, head chef Ragnar Eiríksson and Gunnar Karl Gíslason,one of the founders of Dill, receiving their Michelin star.
Anna Margrét Björnsson


"This is a game changer for us and draws the world's attention to our restaurant," says Kristinn Vilbergsson, one of the owners of Dill restaurant in Reykjavik. He's currently in Stockholm being presented with a Michelin star for Dill, the first restaurant in Iceland to receive this honour. "This also draws more world attention to Iceland and to Reykjavik as a culinary destination."
Dill has received great acclaim both in Iceland and internationally. It has received various awards and nominations and has on several occasions been voted for as the best restaurant in Iceland on lists such as the White Guide Nordic, Nordic Prize and more. The people behind Dill also own Kex Hostel and restaurant Hverfisgata 12 in Reykjavik.
Head chef of Dill, Ragnar Eiríksson says that this shows that it only takes a tiny restaurant seating 20 - 30 people to draw the attention to Reykjavik as a world-class food destination. "Dill builds on Icelandic traditions and Icelandic and Nordic ideology and we use only the best and purest of Icelandic ingredients in our cooking," he explains. "It's an enormous honour for all of my fantastic coworkers."
The interior design of Dill has also gained world attention. It was in the hands of film set designer of Hálfdan Pedersen and was nominated for the prestigious Restaurant & Bar Design Awards in 2015.
Head chef of Dill Ragnar Eiríksson took over the position when one of the founders of the restaurant, chef Gunnar Karl Gislason moved to New York to set up the Agern restaurant with Claus Meyer. Agern received its first Michelin star last year.
Ólafur Ágústsson, head chef at the Kex Hostel restaurant Sæmundur í Sparifötunum became managing director of Dill and also manages restaurant Hverfisgata 12 and Mikkeller & Friends with Hinrik Carl Ellertsson.