Eat and Drink
|
mbl
|
Wed 8 Feb 2017
|
13.49 GMT
|
Modified at 16.22
A foodie trip in Iceland to a secret destination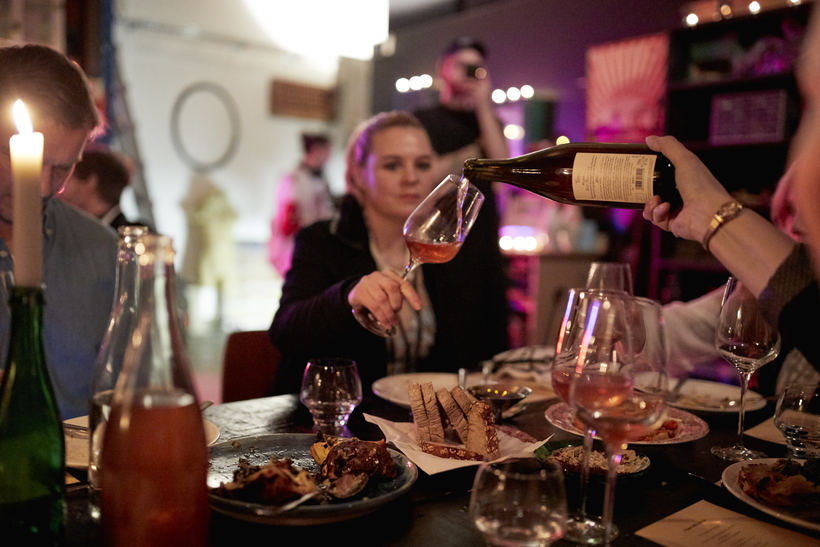 An evening of vegan food and organic French wines was the second in the unique pop-up restaurant series. Photo/ Karl Petterson
Anna Margrét Björnsson


The people behind Kex Hostel, pizza restaurant Hverfigata 12 and the famed Dill restaurant are now offering a most wonderful foodie experience taking place on four consecutive Sunday nights, "Matartími" - a pop-up restaurant showcasing the talents of four different star chefs.
The event has taken place twice before, the first was conjured up by chef Þórarinn Snæfeld
at KEX Hostel who offered Asian street food. The second, which I attended, was themed
vegan, organic wines and gangster rap.
The whole experience was entirely unique and super cool. You turn up at Kex Hostel and then board a coach which takes you to a secret destination. Once there, you're immersed in a fabulous atmosphere where a DJ was spinning the likes of Public Enemy and Wu Tang Clan and the chef, Ragnar Eiríksson of Dill greeted each guest personally.
The food was stunning, a very original take on Vegan food with a distinct Japanese flavour using organic Icelandic ingredients that included sea truffles and kombu, all from the ocean surrounding Iceland.
The next two "Matartími" events take place on Sunday February 12th with the evening hosted by chef of Hverfisgata 12, Hinrik Carl and then on Sunday February 19th featuring chef Ólafur Águstsson of Sæmundur í Sparifötunum, the Kex Hostel restaurant. Both feature their very own distinctive themes (not vegan).
Tickets are very limited but you can book through kexland@kexhostel.is.