Culture and Living
|
Iceland Monitor
|
Wed 15 May 2019
|
9.45 GMT
|
Modified at 10.25
Hatari Qualifies for Eurovision Grand Final
For the first time since 2014, Iceland has qualified for the Eurovision grand final, scheduled for Saturday night in Tel Aviv, Israel. The Icelandic punk rock band Hatari successfully performed their act "Hate Will Prevail" during the first semi-finals last night, earning the right to participate in the grand final. Voting was 50 percent televoting and 50 percent national juries.
Once the results were in, Klemens Hannigan, one of the band's vocalist, spoke at a press conference (see the video above). "We're very grateful for this opportunity," he stated. "It's obvious that capitalism step closer to crumbling. Everything is going according to plan. We want to thank the world, Europe, all the families, the uncles, cousins, aunties, nieces, nephews, children, grandchildren, grandparents, parents, all the companies that supported us on the way... It's been a ride, but everything is going according to plan."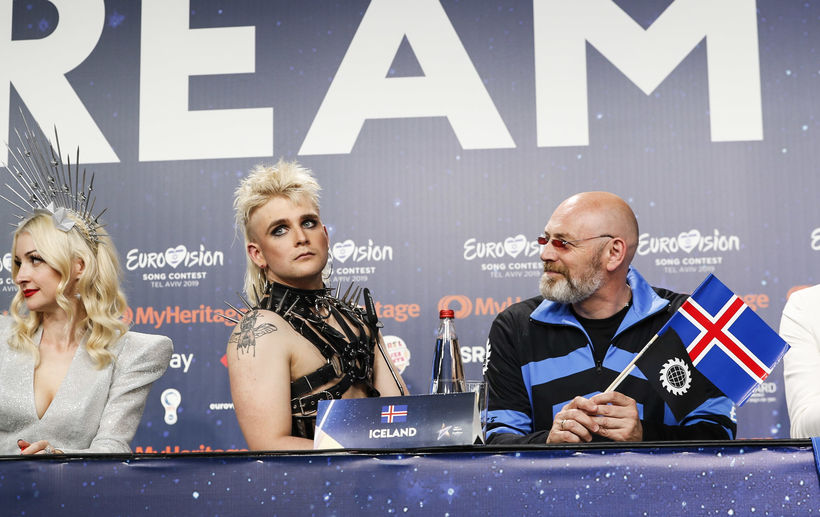 Klemens Hannigan, one of Hatari's vocalists, with Felix Bergsson, the PR person of the Icelandic group, at a press conference last night. Australia's Kate Miller-Heidke is on the left. mbl.is/Eggert Jóhannesson
Hatari will perform during the second half of the grand final, Saturday night. Specialists predict that Hatari's act will be the last one of the evening, mbl.is reports.
When Klemens was asked what it means for Hatari to be part of Eurovision, he responded:
"It means a lot to us to be here in Eurovision, and we feel it's important to bring across this message we have that hate is on the rise in Europe, and I think no one can disagree with that, so I feel it's very important for Europe to understand that we need to unite, need to remember to love, need to find a way for peace, or hate will prevail."
You can watch Hatari's performance here: