Culture and Living
|
Iceland Monitor
|
Wed 8 May 2019
|
12.05 GMT
|
Modified at 13.15
Life Has Purpose, Hatari Fans Insist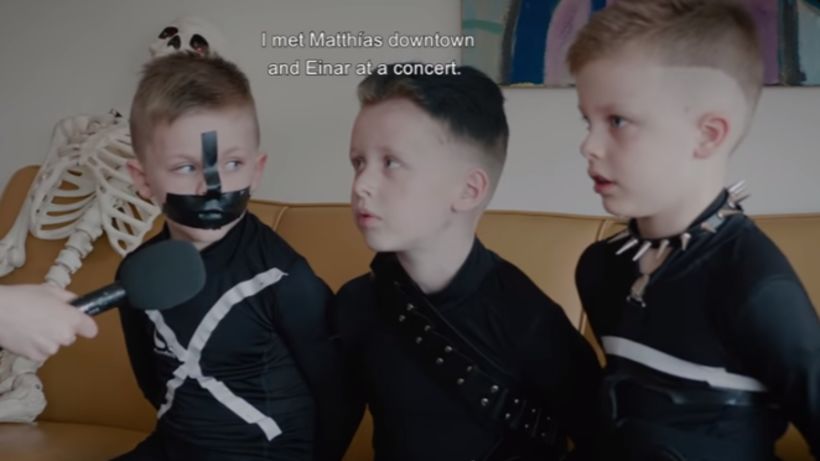 These fans of the band Hatari, representing Iceland at Eurovision, insist that life does have a purpose, despite Hatari's lyrics. Screen shot/Iceland Music News
Anticipation is mounting in Iceland for the Eurovision Song Contest, to be held in Tel Aviv, Israel, May 14-18. Iceland's representative this year is the techno and punk rock band Hatari (meaning Hater) from Reykjavík.
The lyrics of their song depart from traditional Eurovision lyrics, the subject of which is often love. Instead, they include statements such as "Life has no purpose," "Hate will prevail," "Love will die," and "Europe will crumble."
Not to worry, though, according to a recently posted interview with the band's fans, conducted by Iceland Music News. In the interview, sure to make you smile, one of the fans reports he ran into Klemens, one of the band members, at the swimming pool. He told the young fan that the lyrics are pure nonsense, not to be taken seriously.
In the interview, the young fans insist that life does have a purpose, and that Europe won't crumble, not for another 200 years at least. We invite you to watch the video, which has English subtitles. It includes a performance by the young fans, dressed as their idols, and answers to questions you may have asked yourself lately, such as What is the purpose of life?
Not everyone takes the lyrics lightly. Hatari has faced criticism in Israel for its political stance, with UK Lawyers for Israel (UKLFI) and the Wiesenthal Centre writing to the Eurovision Song Contest executive supervisor, urging its disqualification from the contest, claiming it contravenes the spirit and rules of Eurovision.
Hatari arrived in Tel Aviv on Saturday morning, and their first rehearsal on stage was on Sunday. The next rehearsal is scheduled for tomorrow.