Culture and Living
|
mbl
|
Thu 27 Sep 2018
|
17.12 GMT
Cinema: "I prefer to stick to the present moment"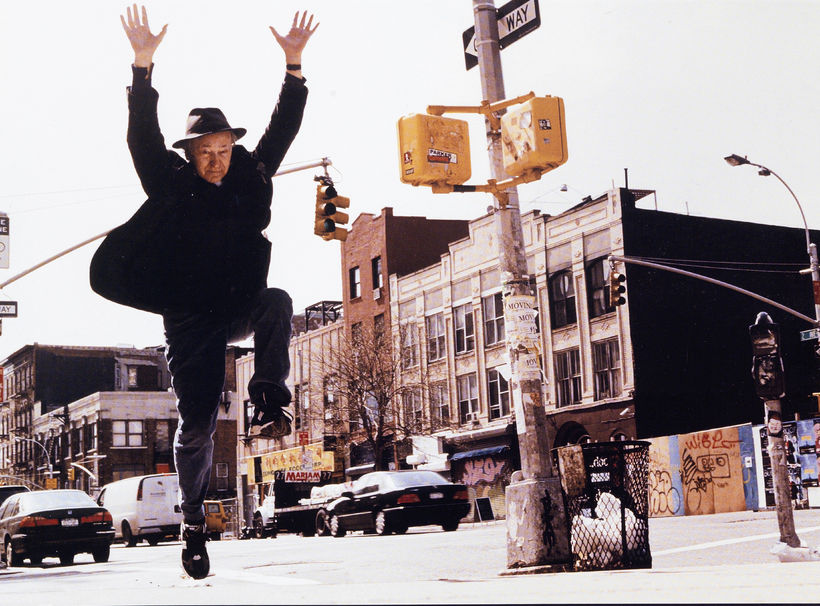 "There are other music and film and art worlds that are more exciting, alternative worlds in Brooklyn, same as in London. Young places, young worlds, young energy, new energy." Photo/Liz Wendelbo
Anna Margrét Björnsson


"Avoid filmschools, follow your vision, get a camera and star filming," is the advice Jonas Mekas gives to aspiring filmmakers. Mekas, who is 96 years old, is guest of honour at the Reykjavik International Film Festival, RIFF which begins tonight.
Mekas is known as the godfather of American Avant Garde cinema. He worked closely with artists such as Andy Warhol, John Lennon, Nico and the Velvet Underground and Salvador Dali to name a few. His name is synonymous with the underground arts scene of New York in the sixties and seventies, a scene that made its mark on the entire western world.
He's best known for his diaries in film format, and has featured many famous individuals in his film diaries, including Allen Ginsberg, Jackie Kennedy, Andy Warhol and his good friend George Maciuna, founder of the Fluxus art movement.
The earlier part of Mekas' life was hard. He fled his home country Lithuania in WW2 and was arrested in Germany and placed in a forced labour camp. Following the war he was transported to the US by the United Nations as a refugee, settled in Brooklyn and studied for a while with Avant Gardist Hans Richter.
The unstoppable Mekas is now on his way to Iceland to attend the film festival and to open his first solo exhibition in Iceland titled Like a Flower in a Field which opens at Ásmundarsalur on October 3rd in Reykjavik.
Mekas graciously accepted to be interviewed by Iceland Monitor.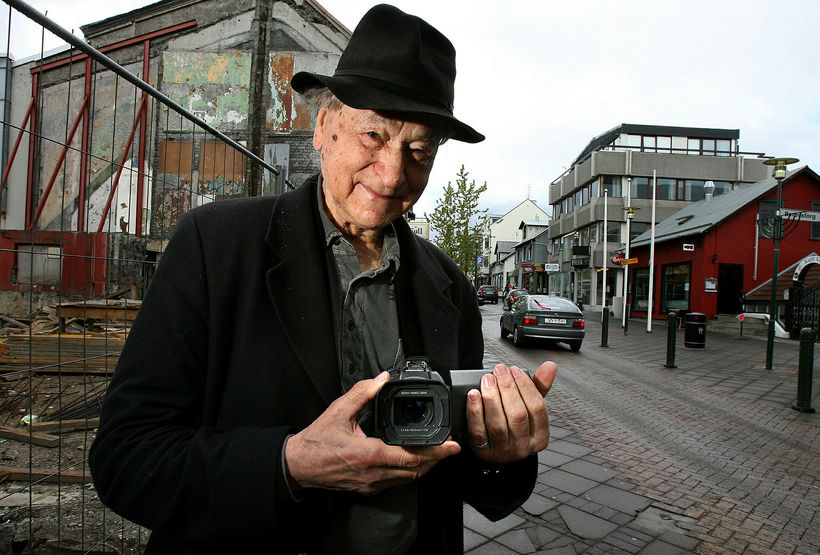 "I like Iceland also because it has two populations simultaneously: the visible one and the invisible one. And I can only imagine what music they make in the invisible Iceland." Iceland Monitor/ Árni Sæberg
Artist, filmmaker, poet, which of these do you most strongly identify yourself as?
"I "make" films therefore I am a film-maker. I write poetry, therefore I am a poet. But I am not an "artist" because that term has become a very vague term, nobody knows any longer what that term means. "
Could you tell me about the village where you grew up in Lithuania?
"I was born in a small farming village of some twenty families in the Northern part of Lithuania. I grew up totally immersed in nature. My first job, as teenager, was to collect flowers for a local herb healer because I knew all the flowers that grew in my area. In the city I feel even today an exile."
Saw his first movie at age 15
What were the first films that you saw as a young man?
"I saw my first movie when I was fifteen, an American melodrama of which I do not remember a single image. Later, when the Soviets occupied Lithuania, I was forced to see the Soviet propaganda movies. Boring stuff. I discovered the real cinema only in l949 when I arrived in New York. And I immediately decided to get a movie camera and start filming. That's when my life in cinema began. I was 27. "
You went to the US as a refugee, how did you end up in New York?
"I did not "come" to New York. I am not an immigrant. I was brought to New York by the United Nations Refugee Organization (I.R.O.) after a year in German forced labor camp and five years of post-war displaced persons camps."
Why did you decide to record footage in diary form ? And when did you make your first diary film?
"I gravitated to the diary form of cinema directly from my early -- beginning age 6 -- obsession with "keeping" a diary. Also, from my having no talent to get BIG money for BIG, feature length "productions." "
His home was a hang-out for budding artists of the sixties
How did you meet Andy Warhol?
"My home, my loft in l961-67 , I like living in lofts, I hate apartments, was a hang-out of budding artists of that period - poets, painters, musicians, film-makers. None of them were known. Andy also began coming and hanging around. He was not making films yet. That's where he met his early "superstars" and got inspired to make films himself. It was very normal. We all inspired each other. "
You have worked with some of the most amazing people in the world of art and music. Who are the most memorable invididuals?
"Usually people notice the BIG names that I worked with. But the big ones would not have become BIG without initial inspiration from SMALLER ones who initiate, catch, permit to be born new ideas, people such as Angus McLise, Barbara Rubin, Tony Conrad, Piero Heliczer, Jack Smith, Harry Smith, artists who prepared the maps for the BIG ones."
I'm a huge fan of the Velvet Underground, and Nico also, do you have a memory of them you can share with us?
"I met Nico, the singer, through Nico Papatakis who helped Jean Genet to make UN CHANT D'AMOUR and co-produced Cassavetes' SHADOWS. I introduced them to Andy."
In a world seemingly completely flooded by commercialist film and music, how does one keep afloat?
"I keep out of those worlds. There are other music and film and art worlds that are more exciting, alternative worlds in Brooklyn, same as in London. Young places, young worlds, young energy, new energy."
You have always been heavily involved with music. Are you still involved in a band?
""My" band, led by Ken Wollesen and Dalius Naujo, at a French bistro Zebulon, in Brooklyn was disbanded, the landlord threw us out, we were too loud. It's being recreated right now in Los Angeles. We are in exile. We had a short getting together a month ago, in Berlin. I could not be there, however, so I did the Forties' trick: I made a SING ALONG piece, projected on screen, and sang together with the band from the screen. It worked fine."
What advice would you give to young filmmakers today ?
"Follow your vision, avoid filmschools, get a camera and start filming. Anything and everything. Get immersed in movies, see them all, including the "bad" ones. Especially the bad ones and old ones."
Music is a part of normal life
Are you looking forward to coming back to Iceland? What was your last experience of the country like?
"I have been several times in Iceland. I like that in Iceland everybody sings, everybody plays music.That's how I grew up in my village. We sang all the time and didn't take ourselves for musicians or singers. We just made music. It was part of our lives. That's normal, that's how it should be. I like Iceland also because it has two populations simultaneously: the visible one and the invisible one. And I can only imagine what music they make in the invisible Iceland."
You are opening your first exhibition in Iceland, what is the theme of the exhbition and what kind of media are you working in?
"I am now totally in the digital moving image technology. I put a lot of my stuff on my website (jonasmekas.com). In the current exhibition in Reykjavik you'll see samples of my earlier, film work, and some of the more current multi-screen installations of which I do a lot. And it all has to do with life around me, my friends, my daily life. I am not too interested in the past. In my cinema I am mostly interested in the present. It's the present that matters and can be willfully controlled, if one wants. The past has so much ugliness that it still affects our present very badly, just look at what's happening all over the world, the overblown nationalisms, outdated organized religions, persistent memories of tribal etc revenge, racism -- it's all from memories. So I prefer to stick to the present moment, the future. In my mind and my spiritual life I am with Sufis. I believe in angels, the Saints, prophets and mystics such as Jakob Boehme, Meister Eckhardt, Hermes Trismegistus, and Saint Theresa of Avila ( read her Autobiography!). And yes, the great Ibn Arabi."
Björk played a small role in one of your films, how did that come about?
" I filmed Björk as she was taking me and Marina Abramovic to the airport, some four, fives years ago. It was a beautiful moment when she noticed and pointed out one of the places we were passing by, where she used to live. There was something beautiful and special in that moment. So I used that shot to close the movie."
Normal to live to one hundred years old
What do you credit for your longevity and good spirits ?
"My "longevity" is really nothing special. It's normal to live to one hundred, I consider. To live shorter means that something went wrong, the life was shortened by some abnormality such as overindulgence in too much food, too much sex, too much worrying, etc. Or the bad things one's parents did, what you inherited. And yes, worrying about tomorrow. I never worry about tomorrow. I let angels guide my life. I just follow angels. It's a matter of developing your "listening to the spheres" sensibilities. And that, of course, is the hardest part of life, an unending part of life. But I like that. That's what I do, that's my real work. The rest comes automatically."
See Jonas Mekas' films at RIFF including Scenes from the life of Andy Warhol and Reminiscenses of a Journey to Lithuania at RIFF. For programme details visit www.riff.is