Culture and Living
|
Iceland Monitor
|
Wed 13 Jun 2018
|
21.29 GMT
Music: Icelander joins The Brian Jonestown Massacre
Icelandic musician Hákon Aðalsteinsson has joined legendary rock band The Brian Jonestown Massacre led by frontman Anton Newcombe. Hákon joins the band on a tour of the US, Australia, where they are currently, and New Zealand.
Hákon, who has lived in Berlin for several years is the songwriter and frontman of Berlin-based band Third Sound and has played guitar in bands including Singapore Sling and Gunman and the Holy Ghost. Anton Newcombe has regularly frequented Iceland and has many friends there. He spent a lot of time in Iceland in the years 2007 and 2009 and that's where the two met and then later continued their friendship in Berlin where they both live.
Hákon is, however, the first Icelander ever to play with The Brian Jonestown Massacre, a band formed in San Francisco in the early nineties.
The group was the subject of the 2004 documentary film Dig! which was about the tumultuous relationship of the band with The Dandy Warhols, and receieved and award at the Sundance festival. The Brian Jonestown Massacre (often known as the BJM) have released seventeen albums, five live albums, thirteen EP's and two various artist compilation albums to date. Hákon tells Iceland Monitor that he didn't think twice when he received the offer to join the band on tour.
"Anton asked me whether I would be up for it when another band member couldn't go on tour because of personal reasons. At the time I was doing a sucky job so the decision was easy." Hákon says he first met Anton when he was playing with Icelandic rock band Singapore Sling. "We toured with the Brian Jonestown Massacre both in the US and then around Britain. When I moved to Berlin I got to know Anton even better and we've done some musical projects together."
Hákon's band, Third Sound, have released three records, with the third, All Tomorrow's Shadows released only recently. Anton wrote one song on the album with Hákon. "When we were finishing demo recordings for the new record we wrote a song which we didn't know what to do with. Neither myself or the guitarist could find a vocal melody to go with it. I thought of sending the song to Anton to see if he could figure one out. Two hours later he got in touch with me and had written lyrics, and recorded the vocals and added a riff. As one does." The outcome can be seen below in the new Third Sound song and video, Photographs.
The Brian Jonestown Massacre have a large fan base all around the world, a fact that hasn't gone unnoticed by Hákon. "There are people waiting outside our tour bus for hours on end just to be able to talk to Anton or give him gifts. I have never had any trouble, lots of peole have come to talk to me, both really weird people and also absolutely great people whom it has been a pleasure to meet."
He says that his favourite concerts so far were at the Levitation Festival in Texaz, as well as gigs on the West Coast, including Portland, San Francisco and Los Angeles. At the time of the interview the band are starting their Australia tour. "Our first concert is tomorrow in Perth and we will also be playing New Zealand. Another tour begins in Europe in August and doesn't end until October.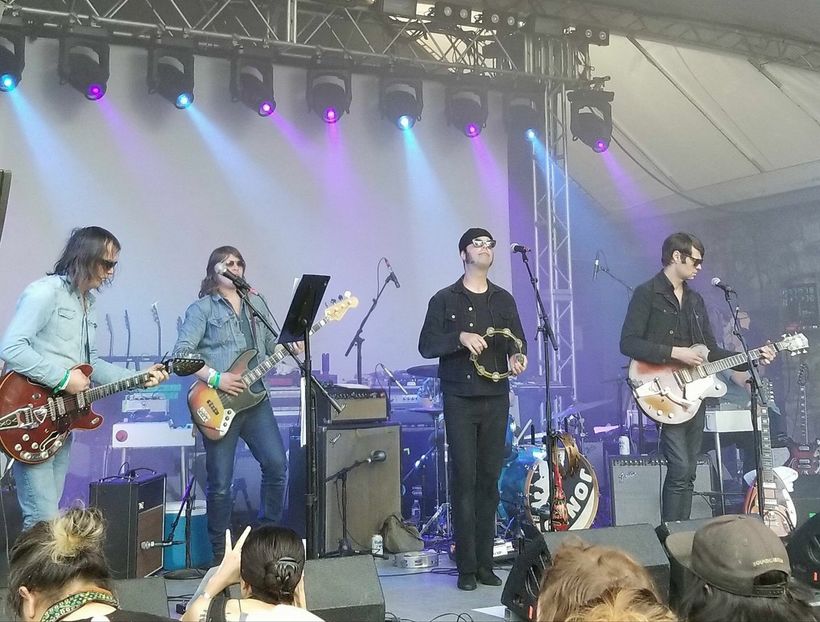 So how is life on tour? Has the band calmed down its drinking habits? "I really like this life. Time has passed really quickly. People in the band are older and some don't really drink at all anymore. Compared to the stories I've heard of the band's earlier life I'm certain things are a lot calmer. "
And what was the worst moment so far on tour? "Well, that's definitely when I was performing with the band in Los Angeles. We were waling onto the stage in the dark and I was carrying my guitar. I didn't spot a monitor on the stage and tripped across it, fell flat on my face and broke my guitar just as the curtains were going up. The other band members told me I was finally a valid member of the band, I guess you have to make some scandal on stage to be a real part of the band."
Hákon is also finding time to take his band Third Sound on a tour of Europe in July and to the Fuzz Club Festival in Eindhoven in August. "We really want to play in Iceland as well but haven't organised it yet. But I know that The Brian Jonestown Massacre also really want to come back to Iceland so if there's any sort of concert organiser out there reading this do be in touch."