Culture and Living
|
mbl
|
Wed 28 Jun 2017
|
20.16 GMT
|
Modified 29 Jun 2017 15.08
Music: "Iceland formed such a big part of our record"
Anna Margrét Björnsson


British band The xx formed in 2005 and rose to fame in 2010 when their self titled debut album received critical acclaim and won the Mercury Prize. The xx had planned to host an impressive music festival at Skógarfoss waterfall in July featuring a host of international and Icelandic artists. The concert, which aimed to be an environmentally friendly and sustainable event in line with the bands philosophy, has been called off.
The reason for this is that the iconic Skógafoss waterfall has just been red listed by the Environmental Agency in Iceland because of the area being severely affected by the enormous increase in tourists visiting the site. In an announcement from the xx they do not want to add stress to this delicate area and because there isn't enough time to ensure that the event doesn't have a negative environmental impact on the already damaged nature. All tickets wil be fully refunded.
Jamie xx, one of the three members of the band was in Iceland just recently where he played at a Boiler Room event at Gamla bíó in central Reykjavik. Iceland Monitor met up with him afterwards to discuss the upcoming festival, now cancelled, and the reasons why they chose Iceland.
"The original idea was I guess just because we ended up playing so many festivals in our lifetime. Some of them great, some of them we felt we could do better, and also we just wanted to have all our friends play music that we love," explains Jamie, aka James Thomas Smith who forms the xx along with Romy Madley Croft and Oiiver Sims. He cuts a boyish, polite and very British figure as we chat in the elegant foyer of the 101 Hotel in the city centre. "Also it's like a way of getting more involved in the community in a certain place. So we did festivals in Portugal, in London and in Berlin, for the last record, and earlier this year we did a weeklong one at Brixton academy for the new record."
The band recorded in the famous Greenhouse studios in Mosfellsdalur. "It was at around this time of the year, it was never dark. Being in the studio you lose your mind a little bit. But when its always light outside as well that kind of added to the craziness, and to the whole experience. We wrote some of the best bits of the record here I think. So we were staying here in the city centre, two years ago, and we wanted to come back here, after having such a great experience. Becaue it formed such a major part of the record."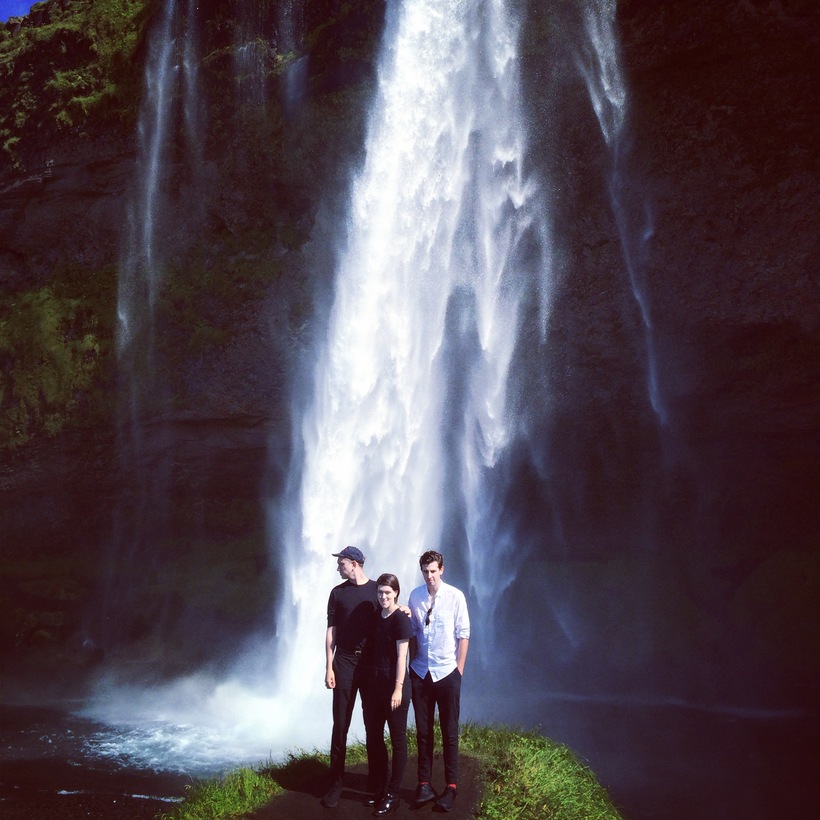 The xx at Seljalands waterfall in South Iceland in 2015. Their ambitious festival Skógafoss waterfall has been called off.
And you've also performed your solo work here? "Yes, at Sónar Reykjavik. So this is my third time. We recorded for the first time here because we had the opportunity to not to be in the dark room in London. And so we decided to do the exact opposite to what we've always done, to go to places that were very different to London. So those places, Iceland, LA and Texas just had these big landscapes and open skies and felt a million miles from home."
How does the solo career go together with being part of a band?
"My solo stuff was something I needed to do between two xx albums just to stop myself going insane on tour. And then I had a lot of stuff that I just wanted to get out, into the world. I didn't expect touring solo for as long as i did so that ended up putting a little strain on the band."
But everyone hates touring don't they?
"Well, there are always amazing parts of it but you spend time away from your family, your friends and your home. And in my case when I toured on my own I was also spending time away from Romy and Oliver who are my best friends but also rely on me for them to be able to finish the music. So I would go back to the studio and then leave again and it was quite fragmented. When we finally all came back together to finish the record we came to the realisation that our friendship needs to be strong in order for us to make music. Thats what the record basically ended up being about."
So the friendship does get strained sometimes? "Yeah, of course, weve been doing this since we were sixteen. We know when to give each other space , it's kind of like a brother and sister thing, when you do piss each other off but then you kind of forget about it an an hour."
When I first heard the xx I thought you were a bunch of goth kids doing melancholy music?
"We've never really been moody. We were just teenagers. We were just moody like any other teenagers. But we also were kind of forced into doing photoshoots and stuff at that age and its always easy just to stare at the ground´," he explains and laughs.
So you became emo by accident? "Well we do love emotional and sad music so that obviously came out, but the image thing just came about by accident. Were all more confident now so we came out of that a bit. Romy still wears all black, she won't wear anything else, but we're branching out a bit."
Do you get into a different character for your solo stuff which is much more cheerful? "The last xx album is much more varied than our previous record. It has brighter moments. My favourite moments in life in general are when I'm alone in the studio. That's when I feel happy. And I'm generally joyful person so I guess that comes out in my music."
Now you've carved out quite a career as a music producer, producing all sorts of amazing people. How do those collaborations come about?
"That depends, people sometimes just reach out because theyre fans or I'll meet someone I'll see in a show - start hanging out with people, it's best when it happens organically. I've also had the thing when you just turn up and meet someone and actually have to do an intimate thing, sharing things with someone you dont know."
Have you ever said no?
"Yes" (Laughing). All the time."
And are there any Icelandic artists that you'd like to work with?
Obviously I'd like to work with Björk. She came to see us once in New York and came backstage afterwards and we hung out. We've ended up hanging out with her a few times since, and a couple of my friends have worked with her. I'm obviously a big fan, she's still constantly pushing boundaries. And I think that JFDR would be really cool to work with but I suppose everybody will be wanting to work with her now. But she sent me a couple of new tracks, we'll see. That would be great."