Culture and Living
|
Iceland Monitor
|
Mon 27 Mar 2017
|
15.00 GMT
Canadian artist Steven Nederveen hosts workshop in Iceland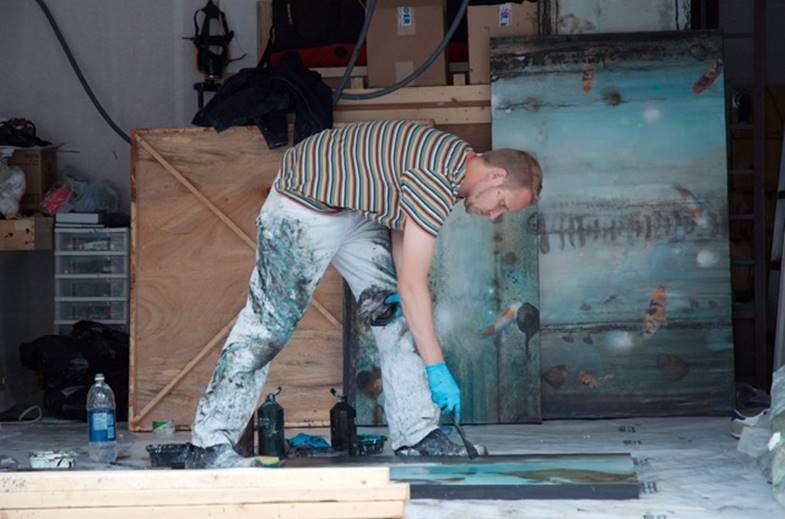 The painting Ocean crossing was created by Canadian artist Steven Nederveen for the Canadian Embassy in Iceland in celebration of Canada's 150th Anniversary. Nederveen will be hosting a workshop in Iceland on March 28th in Akureyri and March 30th in Reykjavik.
Steven Nederveenis a well known Canadian artist with work featured internationally in galleries, art fairs, magazines, media programs and many private collections. Nederveen's painted and stained panels of un-resined works are finished with a gloss varnish that allows areas of textured paint to show through, revealing evidence of the artist's process, while resined panels have a high-gloss, smooth, reflective surface adding to the dreamlike quality of his work. He holds a Bachelor in Fine Art from University of Alberta (1995).
Steven travels extensively, photographing places that feel alive to him, recording the presences there and then re-imagining that world through a combination of digital and painterly processes. He finds inspiration in painting as a means of drawing connections between the natural environment and spirituality, trying to capture the emotional memory of a place in the way our minds fuse together different memories into one event. By blurring the lines between photography and painting, and between our familiar surroundings and the unrevealed forces of a co-existing hidden world, he has developed a magical realism that he hopes will reveal the mystical energy of nature and inspire you to see it with enchanted eyes.

During the workshop, Steven Nederveen will introduce his work through audiovisual presentations, highlighting how it fits into the history of Canadian painting. Steven Nederveen will also showcase the artwork produced for the "Brain Project" a Baycrest Foundation fundraising which leveraged 1.3M$ through the auctioning of 100 sculptures to raise awareness about Alzheimer's, dementia and other brain diseases and directly support care and research. The event will conclude with a reception for the vernissage of a painting realized by Steven Nederveen in celebration of the 150th Anniversary of the Canadian Confederation, which will be exposed at the Embassy of Canada in Iceland throughout 2017.
This painting, by Canadian artist Steven Nederveen, was created for the Canadian Embassy in Iceland in celebration of Canada's 150th Anniversary.
"When I was invited by the Canadian Consulate in Iceland to create a painting, I immediately jumped at the opportunity," explains Nederveen. " As part of the Canada 150 celebrations, this is a unique occasion for me to discuss my work in the broader context of Canada's artistic traditions. Many Canadian artists have expressed, through writing, music and painting, their love of nature. Iceland, like Canada is a place of breathtaking beauty. To be in a place that understands that kind of connection to the land is great. Their own landscape is vastly different from our own, it's quite barren, so all the waterfalls, geysers, black sand beaches, volcanoes and Icebergs are quite striking. The harsh landscape has inspired their own unique artistic traditions full of mystical elements. That's something I get, and something I express in my own work. This is a wonderful cultural exchange that I get to part of and it's such an honour to have one of my paintings hang in the Embassy. "
The location pictured in the painting holds special meaning to the artist. " It's Tofino, one of Canada's surf destinations on the outside coast of Vancouver Island. As an artist whose work is about expressing the mystical elements of nature, I like to find ways to immerse myself in the environment. Particularly water, I'm an avid surfer and sailor. A wave is a beautiful embodiment of how physical energy is manifested into a fluid shape. When I contemplate this single wave rising up and crashing on the vast horizon, it speaks to me about the ephemeral nature of life. I'm always looking for ways to express my love of nature and the meditative experience I find in it. This waterscape is a natural extension of my connection to water through surfing and sailing. My water pieces are central to my practice because they represent a returning home. The title "Ocean Crossing" references the exchange between Iceland and Canada."
Steven Nederveen will be giving an audio/visual presentation in Akureyri at the Gil Association on March 28th at 4pm and again in Reykjavik, at the Nordic House on March 30, at 4pm.