Culture and Living
|
Morgunblaðið
|
Fri 24 Mar 2017
|
11.00 GMT
|
Modified 25 Mar 2017 18.10
Icelandic artist Glowie signs deal with Columbia
Icelandic music newcomer Sara Pétursdóttir, otherwise known as Glowie, has signed a huge contract with Columbia records. This is one of the largest music deals made by an Icelandic artist.
According to her manager Sindri Ástmarsson, Glowie had a choice between several large international record companies. "Many record companies were interested and we've been constantly travelling over the past few months. I can safely say that all of the world's biggest record companies were interested." Ástmarsson is also the former manager for Kaleo, a band who have also been very successful internationally of late.
Songwriter Pálmi Ragnar Ásgeirsson will continue to work with Glowie and has been a key player in the project since the beginning.
"At this stage she will have an international team working with her, I'm very excited about heading that team," says Ástmarsson.
Pétursdóttir, or Glowie, says that she's still quite numb from the news. "It's happened so fast. I had just come off a flight when I signed the contract in London last Friday and hadn't slept. I spent the day in a numb state. When I look at photos from that day its obvious how tired, stiff and shocked I was," she says and laughs. "It's ridiculous, it seems like we started such a short time ago. It's my dream coming true." She adds that her father is helping her a lot. "He plays a big part in the whole thing. He's always looking after me and making sure I'm ok. All the meetings are in English and sometimes I don't understand everything. I'm not really good at the business talk but my dad understands it. He's supported me through the whole thing."
Glowie has been working on a new album this winter which is coming out on EP format internationally fairly soon.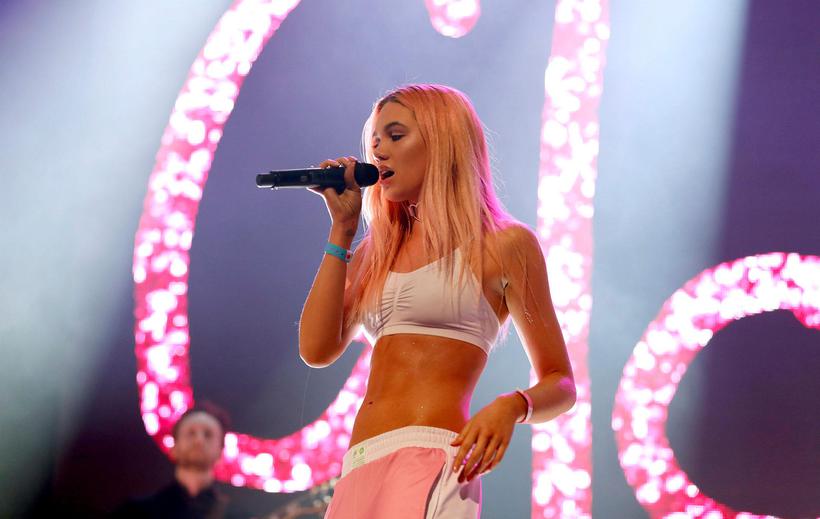 Sara, otherwise known as "Glowie" has made one of the largest record deals ever made by an Icelandic artist. mbl.is/Eggert Jóhannesson
Some of the world's most famous artists are signed up with Columbia records, including Beyoncé, Calvin Harris, Adele, Bruce Springsteen, Calvin Harris, Foo Fighters and Bob Dylan. "It's been interesting watching Sara grow through this whole proccess and I believe that she's going to be an international success," says Ástmarsson.
Glowie will be promoted on the UK market to begin with. "Ferdy Unger Hamilton, the new managing director of Columbia in Britain will be involved with the project. He has great experience in putting female musicians on the map, including Lana Del Rey, Ellie Goulding and Florence Welch.
"It's been unreal," says Glowie. "I've met all kinds of people, people who have worked with some of the biggest stars in the world. It's like entering a different reality. And when we got back to Iceland reality hit and I just thought, what on earth was I doing? It's all very unreal."