Culture and Living
|
Iceland Monitor
|
Wed 15 Mar 2017
|
17.00 GMT
|
Modified 16 Mar 2017 11.30
Artists Matthew Barney, Ragnar Kjartansson and Gabríela Friðriksdóttir unite for Sacrifice
On Thursday the Iceland Dance Company will premiere an ambitious work by choreographer Erna Ómarsdóttir and her musician partner Valdimar Jóhannsson. Five separate pieces make up "Sacrifice", a celebration of modern rituals at the Reykjavik City Theatre.
Sacrifice is a celebration of dance, art and music where audiences move from one space to the next, experiencing a different ritual in each place. Performers include amongst many others, artist and musician Sigtryggur Berg Sigmarsson, author Friðgeir Einarsson, dancer Heba Eir Kjeld and vocal artist Sofia Jernberg.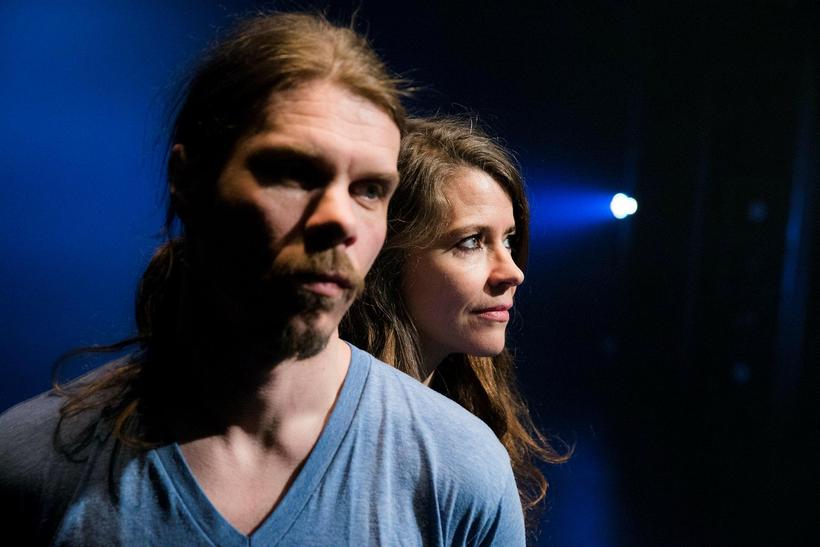 Musician Valdimar Jóhannsson and his partner, artistic director of the Iceland Dance Company Erna Ómarsdóttir.
Ómarsdóttir says to Morgunblaðið that the idea for the work came when she and her partner were discussing whether they should get married or not. "It led us to speculation on religious rituals and their importance or function."
Their collaboration with Matthew Barney beganm around ten years ago and when Sacrifice began to take shape, Barney was interested in creating a new wedding ritual for the piece. "But he has a phobia for theatre buildings and didn't want to take part in a piece performed on a theatre stage," says Ómarsdóttir. "But when Matthew realised that the Reykjavik City Theatre is joined to a shopping mall, Kringlan, that's when everything started and we ended up making a kind of invasion of Kringlan."
The five different works that create Sacrifice are as follow:
No Tomorrow, a new creation by performance- and visual artist Ragnar Kjartansson and choreographer Margrét Bjarnadóttir, focuses on the idea of youth with a group of dancers with acoustic guitars and music by The National's Bryce Dessner.
Union of the North, created by renowned American visual artist Matthew Barney, choreographer Erna Ómarsdóttir and musician Valdimar Jóhannsson is a performative video installation, attempting to fuse together consumerism and the spiritual in an act of marriage.
Dias Irae by visual artist Gabriela Friðriksdóttir is part video-installation, part choreographed ritual that focuses on the transition from life to death. Made in collaboration with Ómarsdóttir and Jóhannsson, the video also serves as an inspiration for their choreography, Shrine.
Finally the festivities reach an immersive peak at the already bustling Market, where people present their beliefs, ideas and solutions for a sustainable future.
Sacrifice seeks to push boundaries of comfort. "We can promise our audience many beautiful and memorable moments. "
There will be only five performances of Sacrifice at the Reykjavik City Theatre and then the piece goes on a tour of Europe. For tickets, see HERE.