Culture and Living
|
Iceland Monitor
|
Mon 12 Sep 2016
|
15.40 GMT
Icelandic film wins Queer Lion award at Venice Film Festival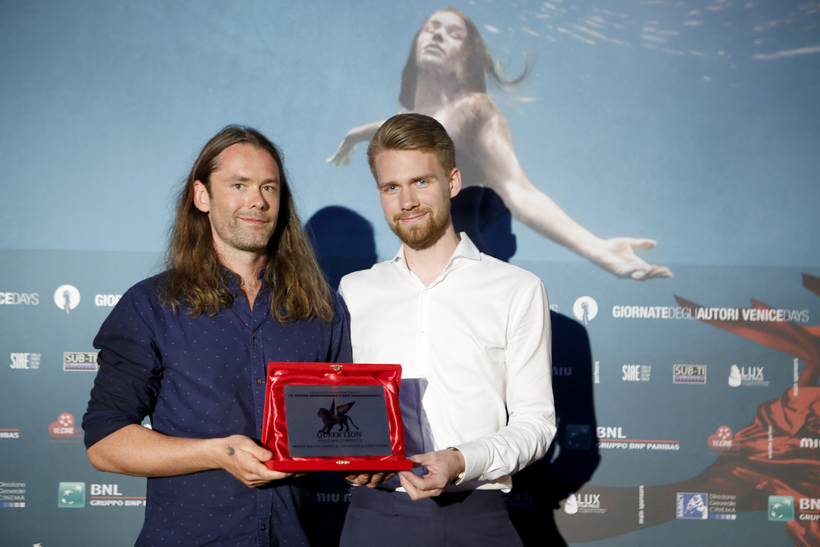 Director Guðmundur Arnar Guðmundsson (left) and producer Anton Máni Svansson (right) receiving their award. Photo: Icelandic Film Centre
Icelandic film Hjartasteinn (meaning 'heart stone') has been awarded the 2016 Queer Lion award at the Venice Film Festival.
The award is given to the film dealing with LGBTQ issues – selected across all categories – "most deserving in terms of artistic contribution, social impact and civil engagement".
In the words of the jury, Hjartasteinn was selected "[f]or the exquisite touch in showing the coming of age of two young friends and analyzing the acceptance of homosexual feelings and passions. For the strong and valid representation of the inner conflict that separates and then re-unites the two main characters, set against a natural environment as breathtaking as it can be hard and cruel."
Hjartasteinn was one of eleven special guest films at this year's Venice Film Festival – the first time an Icelandic film has ever received this honour. The film premiered at the Festival.
The film is the first full-length offering by director and writer Guðmundur Arnar Guðmundsson and takes places in a small Icelandic fishing village.
It is the story of a strong friendship between two young boys taking their first steps into adolescence and discovering love.
Hjartasteinn will next be competing at international film festivals in Toronto, South Korea, Warsaw and Chicago, and will premiere in Icelandic cinemas this winter.