Culture and Living
|
Iceland Monitor
|
Mon 9 May 2016
|
15.00 GMT
|
Modified at 16.09
Little Icelandic boy sends his dummy to Thomas the Tank Engine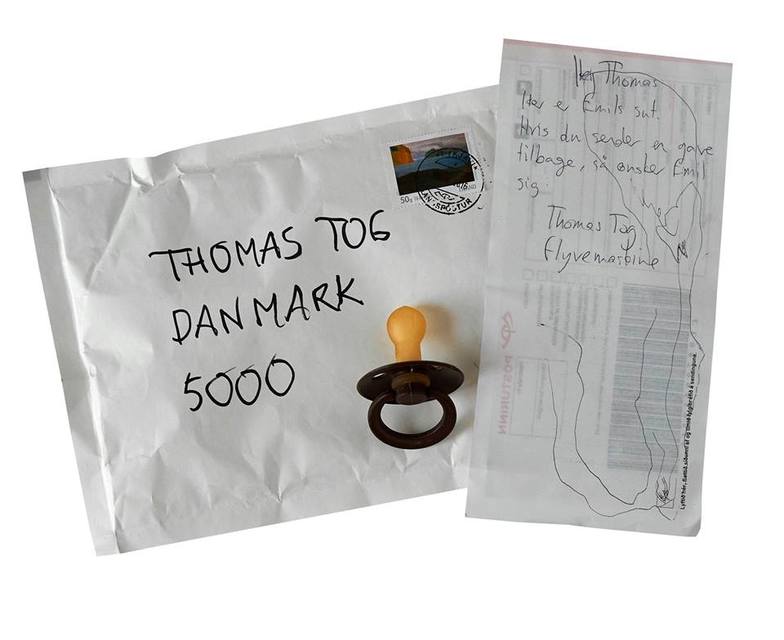 The letter from little Emil included his dummy and a note asking for a Thomas the tank engine airplane. Photo/ Danmarks Jernbanemuseum
For our cute story of the week, here's the tale of a little Icelandic boy called Emil who sent his dummy to Thomas the Tank Engine at the Danish locomotive museum in Odense. The museum is now looking for little Emil to be able to send him a gift and certificate.
"Giving up your dummy is a large step for many children," writes the museum on its Facebook page (in Danish). Emil and his parents sent the dummy in an envelope with a note saying, Here is Emil's dummy. If you send him something back, Emil would love a Thomas the tank engine airplane." Unfortunately, an address and contact number wasn't included.
Thomas the Tank Engine is a much-loved children's book by Wilbert and Christopher Awdry and a subsequent TV series. The Danish locomotive museum has a section dedicated to the famous train, called Thomas Tog in Danish. Icelandic children know him from Icelandic television as "Tommi lest."
Do you know the Emil in question?