Culture and Living
|
mbl
|
Mon 2 May 2016
|
19.45 GMT
|
Modified at 20.46
The highs and lows of Iceland at Eurovision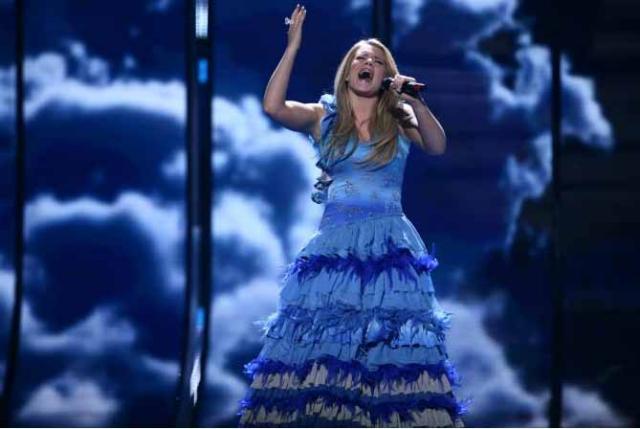 Yohanna scored a second place for Iceland in 2009, but just misses out on our Top 5 Best Iceland Moments in Eurovision. Photo: EBU
Next week, Iceland's Greta Salóme will be taking to the stage to defend the Icelandic flag at the 2016 Eurovision Song Contest.
2016 is a special year for Iceland at Eurovision, as it is the thirtieth anniversary of the country's first ever participation in the pan-European music contest, back in 1986.
In the three decades since ICY performed the now iconic Gleðibankinn, Iceland has seen it all – the good, the bad, and the downright bizarre. The country has come second on two occasions, last once, and never lifted the Eurovision trophy.
Iceland Monitor has put together its own Top 5 of Iceland's best and worst entries at the Eurovision Song Contest. Enjoy!
Top Five BEST Moments
5. Eyþór Ingi – Ég á líf (2013)
The only time this century that Iceland hasn't ditched the national language of Icelandic in favour of English. This classy, gimmick-free song was staged beautifully and performed flawlessly. Three minutes of goosebumpy, spine-tingling loveliness.
4. Stjórnin – Eitt lag enn (1990)

On their fifth attempt, Iceland really 'got' Eurovision. Grétar and Sigga are a joy to behold in this toe-tapping, catchy ditty, packed with hair, teeth, shoulder pads, and synchronised strutting and hip-wiggling. Happiness in song form.
3. Birgitta – Open Your Heart (2003)

A strong, anthemic Eurovision entry, just on the right side of Icelandic cool. Performed expertly by the lovely Birgitta, the song's chances were hurt by having to perform first in a field of 26 songs. A very welcome Scandinavian key change at 2:25.
2. Paul Oscar – Minn hinnsti dans (1997)
Icelandic Eurovision entered the 21st century three years before the calendar did. An atmospheric, edgy, dance number, staged to perfection and nailed by Iceland's king of pop Paul Oscar. This song led the way to Dana International's victory in 1998 and the Eurovision Song Contest as we know it today.
1. Selma – All Out Of Luck (1999)

Iceland coming second in 1999 to a Eurovision-by-numbers ABBA-reloaded ditty from Sweden will forever go down as one of biggest injustices ever seen at the Eurovision Song Contest. Iceland was robbed. Queen Selma was robbed. Anybody with a set of ears was robbed.
*****
Top Five WORST Moments
5. Silvia Night – Congratulations (2006)

Unnecessarily over-the-top and messy, this song sees the mark between whimsical and embarrassing and takes a big step over it. The 'humour' of the Silvia Night character also managed to mightily offend the host nation (you can hear the booing before and after). Needless to say, this did not even qualify to the final.
4. Daníel Ágúst – Það sem enginn sér (1989)

Iceland left every stone unturned in 1989 in their search for interesting staging, choreography and a decent pair of trousers. A plodding song, which goes nowhere and peters out with a whimper. Nobody on the stage looks as if they are enjoying themselves one bit!
3. Pollapönk – No Prejudice (2014)
Another ill-advised attempt at Icelandic 'zaniness' on the Eurovision stage. The beautiful message of the song's lyrics is sadly spoilt by ridiculous staging, costumes, and dancing about – the whole thing looks like it's going on inside the head of a three-year-old who's drunk too much orange squash.
2. Beathoven – Þú og þeir (Sókrates) (1988)

This ridiculous travesty of an Icelandic entry has absolutely no redeeming features. Even the performers seem to give up on the song about two-thirds through and descend into a face-saving circus-style 'la, la, la' section. It's the best bit of the whole thing...
1. Anna Mjöll – Sjúbídú (1996)
What do you think of when you think of Iceland? That's right: shoo-be-doo soul. Despite the best efforts of the strikingly beautiful Anna Mjöll, this is a pitifully dull and incongruous excuse for an Icelandic Eurovision entry. Let's hope these dark days are behind us.
See also: