Culture and Living
|
Iceland Monitor
|
Sun 1 Nov 2015
|
21.03 GMT
Favourite item of clothing is a pair of sunglasses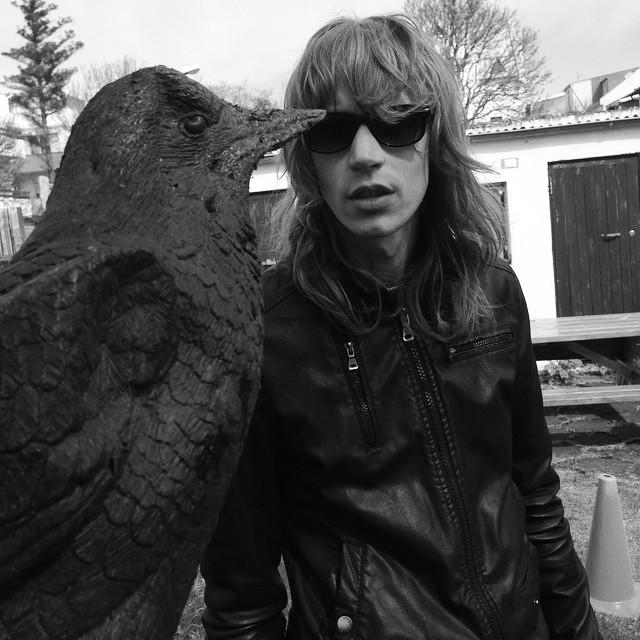 Cool cat about town Erling Bang drums with numerous bands playing at Iceland Airwaves which takes place this week. We put him through the Third Degree on what to see at the music festival as well as a few more revealing details which include a penchant for good coffee, being put to sleep by Eric Satie and the Mjódd district.
Where can we see you play at Iceland Airwaves? At Nasa and Iðno with Fufanu. In the 12 tónar off venue with Singapore Sling. At Harpa's Nordurljós hall with Sin Fang, and Iðnó with Ojba Rasta.
What are you definitely going to see on or off venue at Iceland Airwaves? I´m pretty busy all days on the festival so I haven´t checked who´s playing. But I will definitely see Vignir Rafn, the bass player at some point, I heard he´s playing over 20 times.
Your most treasured possession? Family and friends .
What's your idea of a perfect meal? Potato gratin is what I live on these days.
Who would you invite to the meal, of anyone living or dead? Pétur Jökull. He is a musician in Iceland called 'Pj Glaze."
What is your favourite place in Iceland? Mjódd. In Breiðholt, Reykjavik. I grew up close to that place and used to go there everyday to skate and make trouble.
Artist that you look most up to? Barði Jóhannsson.
What's the music that has most influenced your life? When I heard Drum 'n'Bass I realized I wanted to play drums.
What are you listening to right now? Last and MTFT, both new projects from my friend Ívar Örn (Dr.Mister).
Favourite item of clothing? A pair of sunglasses.
Favourite café/ restaurant in Reykjavik? Obla Di.
What's your least favourite trait of Icelanders? When you go to a show at 22:00 and have to wait until 00:30 for a band to play.
What's the best thing about living in Iceland? It's pretty easy to find good coffee.
What keeps you awake at night? Electro musician Ultraorthodox has been living on my couch last weeks and he's making heavy music all the time. Usually I´m awake at nights anyway so when I go to sleep in the morning the girl upstairs wakes up and starts to play Eric Satie on the piano and puts me to sleep.
If you could move anywhere in the world tomorrow, where would that be? I travel a lot these days and love doing it, seeing new places is the best, but most of my family and friends live in Iceland, so I just want to move to a better apartment in Reykjavik.
For the full Iceland Airwaves schedule visit their website HERE.