Culture and Living
|
Iceland Monitor
|
Wed 13 May 2015
|
14.05 GMT
|
Modified 6 Jun 2016 16.37
Reykjavik Arts Festival opens today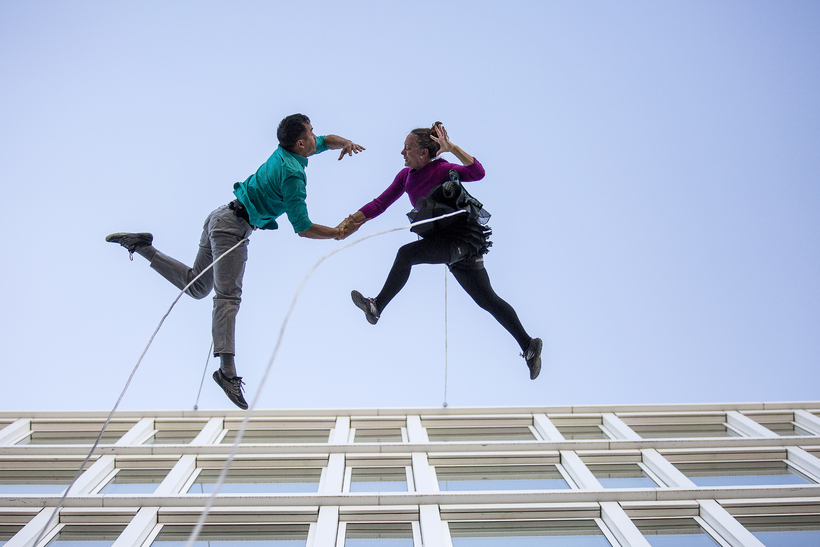 From the rehearsal of Bandaloop yesterday. They will be performing at the opening of the Reykjavik Arts Festival today, Wednesday at 5 p.m, an event not to miss. Photo: Styrmir Kári
The Reykjavik Arts Festival opens today with the First performance in Iceland by the incomparable vertical dance dance group, BANDALOOP who will be scaling the old Morgunblaðið building in Aðalstræti in the city centre. The programme of the festival, which takes place until June 7th features an extensive programme of art, theatre and music.
The visual art programme of Reykjavik Arts Festival, under the heading PART I, features close to thirty visual art exhibitions and performances. The exhibitions address wide-ranging issues; from taking stock of women's situation in Iceland 100 years after women's suffrage was introduced; women's sexuality and freedom of the individual; the prospects and circumstances of women who migrate in search of a better life; to the various other private and political subjects of the more than seventy visual artists represented at the festival.
These exhibitions take place in established and unconventional museums and spaces in Reykjavík as well as the nearby towns of Kópavogur and Hveragerdi as well as Akureyri in the north of Iceland. They include the unveiling of a new billboard work by the Guerrilla Girls commissioned by the Festival; Dorothy Iannone's exhibition The Next Great Moment in History is Ours at Gallery GAMMA; a new performance by Rúrí, Lindur – Vocal VII, at the Nordurljós hall in Harpa, also a Reykjavik Arts Festival commission; an exhibition on Richard Serra's Milestones, at the Reykjavík Art Museum, on the occasion of the work's 25th anniversary, and Dodda Maggý's happening, Doríon, at Kópavogur Church, forming part of a major collective exhibition featuring work inspired by Gerdur Helgadóttir's stained glass windows in Kópavogur Church.
On the opening day of the Festival, May 13, a new billboard project by Guerrilla Girls, specially commissioned by Reykjavik Arts Festival, will be unveiled in the city centre. For three decades, Guerrilla Girls have fought for equality within the art world, using humour and irrefutable statistics. They have stirred up audiences around the world with their presentations, given in full jungle drag, as they will do this spring at Reykjavik Arts Festival. During their presentation, they take the audience through how they came up with some of their many posters, books and other actions against discrimination in arts, film and politics.
Also opening is an exhibition of work by Dorothy Iannone (1933), who has been challenging the norms of prevailing culture with her art and opinions since 1959. Her work has long been subject to fierce criticism and censorship of numerous kinds and it is only this past decade that has seen a growing interest in her work, with major exhibitions at New York's New Museum (2009) and Berlinische Galerie in Berlin (2014), among others. Love and the freedom of the individual are themes of Iannone's art, who is known for paintings that explicitly depict female sexuality. The exhibition at Gallery Gamma, The Next Great Moment in History is Ours, focuses on the vibrant and taboo-shattering works from the late 60s and early 70s. The show also deals with the connection between her love of food and other types of love; there will be cookery classes held in conjunction with the exhibition where the artist's favourite dishes will be prepared.
A new performance by Rúrí, Lindur – Vokal VII, specially commissioned by Reykjavik Arts Festival, will receive its premiere at Harpa's Nordurljós hall during the opening weekend. The performance deals with the topic of water in its various forms, fusing an installation with an original audio piece, movement, text and voices.
Dodda Maggý will present her site-specific video/music performance Doríón at Kópavogur Church, specially composed for the exhibition Illumination at Kópavogur Art Museum – Gerdarsafn. The performance takes its structure from the colours and shapes of Gerdur Helgadóttir's stained glass windows and the architecture of the church. Helgadóttir's art also provides the inspiration for the exhibition at Gerdarsafn, including new work by Gudrún Kristjánsdóttir, Lilja Birgisdóttir and Katrin Agnes Klar, as well as Helgadóttir and Dodda Maggý and more.
There are other major group exhibitions on the Festival programme this spring, including SAGA: When images speak at the National Gallery of Iceland, which reveals a nation's culture, from its innermost thoughts to its political struggles. Participating artists include Gabríela Friðriksdóttir, Björk Guðmundsdóttir, Ólafur Elíasson, Ólöf Nordal and Ragnar Kjartansson.
Bíó Paradís will see the Icelandic premiere of video work by Libia Castro & Ólafur Ólafsson on the one hand, and Elín Hansdóttir on the other. Libia & Ólafur's piece Caregivers (2007), to Karólína Eiríksdóttir's music, deals with caregiving and help at home, exploring the ideas of hope, utopia and a sustainable future as it follows two women from Ukraine and Romania, both of whom have been forced to leave their native countries due to economic hardship.
Elín Hansdóttir's Suspension of Disbelief was created for her show at Kunstwerke in Berlin, which opened in March this year. The work represents an attempt to open new dimensions of sensual experience, dissecting the borders between three-dimensional media and the medium of film.
Other artists featured in the Reykjavik Arts Festival's visual arts programme include Bryndís Hrönn Ragnarsdóttir (Týsgallerí), Sirra Sigrún Sigurðardóttir (LÁ Art Museum), Hulda Hákon (Tveir hrafnar), Ásdís Sif Gunnarsdóttir (Hverfisgallerí) Hlynur Hallsson, Hallgrímur Helgason and Hildur Hákonardóttir (Frakkastíg 9) and many others. The first exhibitions will open on Wednesday May 13 with the last visual art events taking place during the festival's final weekend; however, the majority of the exhibitions will open between May 14 and 17. Detailed information on all the exhibitions and artists can be found on Reykjavik Arts Festival's webpage, www.artfest.is