Whale watching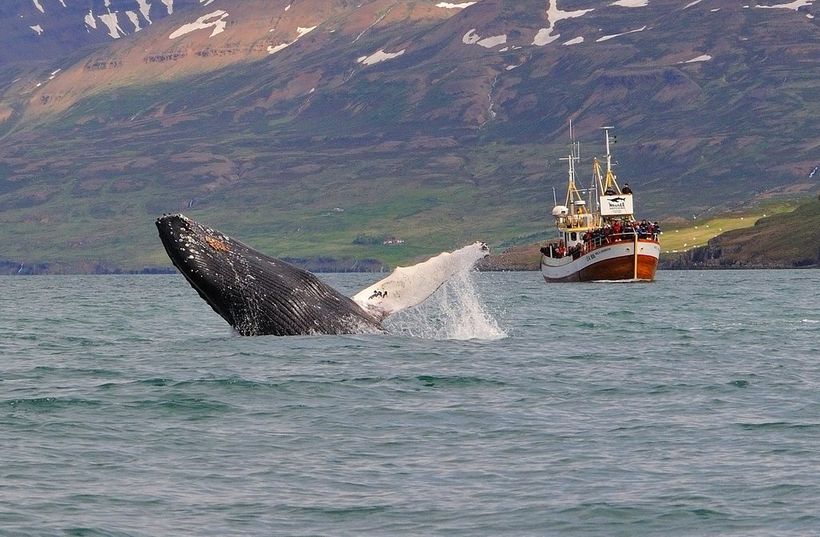 Iceland is one of the whale-watching hot spots of the world, with nature's true giants being regular visitors to the seas around the country.
The wide variety of cetacean creatures in and around Icelandic waters includes whales, dolphins and porpoises. Many of the largest species, such as the blue whale, can be spotted in waters not far from shore.
The summer is the best time to see the most numerous species since the waters around Iceland are rich feeding grounds for many migratory species.
Winter watching tours are less frequent but can often incorporate a Northern Lights tour as part of the same package if desired.
All of Iceland's coastal waters play host to visiting whales and other species, with popular whale-watching destinations ranging from Reykjavik and Grindavík in south-west Iceland to the small and picturesque town of Húsavík in the north of Iceland.
Whale-watching tour operators ensure all boats are equipped with life jackets and life boats as required by law. Sea-sickness pills and bags are carried on many boats for those unfortunate enough to feel sick during an excursion.
Many of the operators include a refreshment area on board selling food and snacks as well as alcoholic, non-alcoholic and hot drinks. Lower-deck seating areas are available for those who do not wish to stand in the open air of the upper decks. Public areas of the larger vessels in particular contain lots of information such as pictures of individual species, how big they grow, what they eat and more. All tour guides are well trained and educated.
Most operators also offer warm and waterproof suits at no additional charge which guests can wear to keep warm and comfortable, particularly on very windy or cold days.
Many tour operators offer visitors the chance to repeat their trip free of charge if they are unfortunate enough not to see any creatures on their first trip.
If adverse weather and sea conditions result in departures being cancelled, tour operators generally try to notify hotels, guest houses and other information points as soon as possible in advance so as not to cause too much inconvenience.