Weather and climate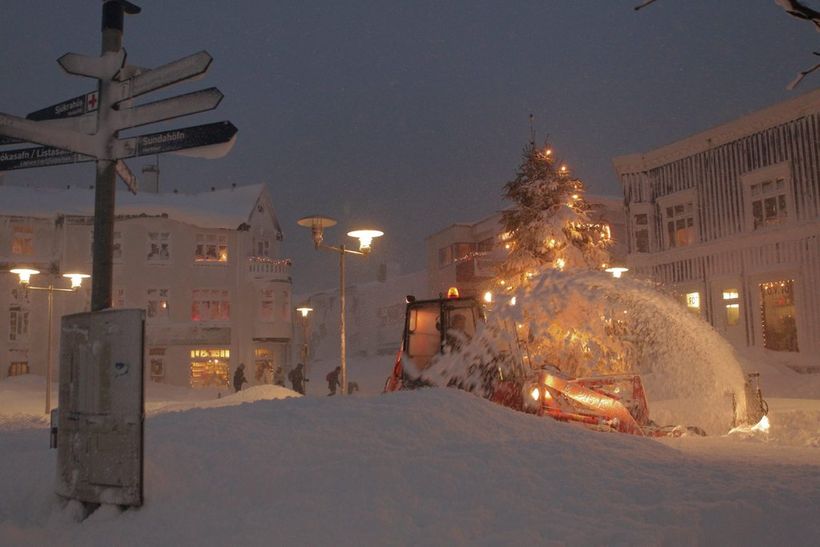 Iceland's weather can often be deceptive, varied, and changeable at a moment's notice.
A common Icelandic expression is that if you don't like the weather, just wait five minutes!
It can be very common for visitors to experience all four seasons within an hour, and weather patterns can blow in at very short notice and last for indeterminate amounts of time.
Iceland's position in the north Atlantic at the top of the Gulf Stream means that the weather and climate are not as icy and cold as the country's name suggests.
Warm, temperate summers can be matched with relatively mild, wet and windy winters.
Indeed, Iceland's winter temperatures are often higher than North American counterparts and more southerly-located European countries.
Average temperatures in Reykjavik during winter months are usually around 0/-1 °C, making the world's most northerly capital warmer than cities such as New York, London or Oslo.
In the summer months, the high position of the Arctic sun means UV levels can be surprisingly high, with many people being sunburnt despite the moderate temperatures. Visitors going on glacial hikes in particular are advised to bring adequate sunglasses or goggles to avoid snow blindness or high levels of glare.
Visitors are always encouraged to bring plenty of warm and waterproof clothing with them, no matter what time of year they are visiting.
On sunny winter days, the wind-chill factor can make a beautiful day seem bitterly cold, and scarves, gloves and hats are always recommended.
Sensible shoes and footwear are also recommended, particularly for mountain hikes and country walking.
Bathing costumes are advisable also, not just for visiting attractions such as the Blue Lagoon, but for the many hot rivers located throughout the country that are wonderful to bathe in.
Visitors to Iceland during the summer months can experience nearly 24 hours of daylight, while winter nights can be long and dark, even if not so cold.
Some Icelanders experience Seasonal Affective Disorder (SAD) during winter months so visitors may be surprised to see Icelandic Christmas lights and decorations on display well in to the New Year, as plenty of light help break up the winter gloom.
Strong weather fronts can blow in at very short notice, and tour guide operators try their best to plot the weather far enough in advance so they can inform visitors if a particular tour or excursion has to be cancelled.
For more information on Icelandic weather forecasts, visit www.vedur.is.