South Iceland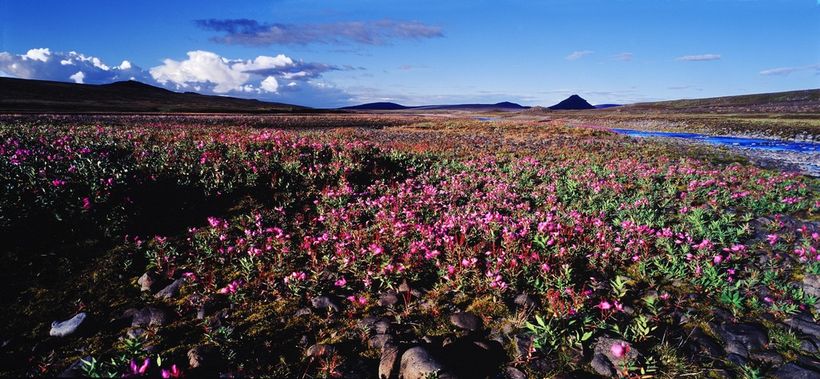 This area of the country is the land of the Golden Circle, black beaches, volcanic islands, glacial lagoons, flat areas of farmland and a chance to drive only a short distance from Reykjavik yet feel a million miles from the big city.
South Iceland, brilliantly connected by Highway 1, contains some of the country's most popular and beautiful tourist destinations.
The volcanic beach near the tiny village of Vík is a wonderful place for walkers, photographers and wildlife fans to see all the wonderful sights that give Iceland the name 'the land of fire and ice'. Easily seen from even far-off distances are the Vatnajökull and Eyjafjallajökull glaciers, the latter famous for erupting in 2010 and wreaking aviation havoc.
Further along Highway 1, the imposing volcano of Hekla can be seen. Although the name means 'hooded' in Icelandic, many may be surprised to learn that the expression 'gates of Hell' is derived from the devastating crop failures and famines that Hekla caused throughout Europe in the Middle Ages.
Today the volcano remains one of the most active in Iceland, with the most recent eruption in 2010.
Other popular destinations in south Iceland include the famous Golden Circle tour, which takes in the three iconic sites of Þingvellir National Park, Gullfoss waterfall and Geysir.
These tours, which operate all year round and include pick-up and drop-off from most hotels, guest houses and hostels in and around the Reykjavik area, can last for either half a day or a day, depending on your time frame.
Þingvellir, the site of Iceland's first parliament, is where Iceland can be seen to be literally pulling itself apart. This beautiful and protected national park is where the North American and Eurasian tectonic plates pull apart at a rate of up to 5 cm a year. This beautiful fissure, which can be snorkelled and scuba-dived in, is up to 40 m deep in places but the crystal clear water allows visitors to see all the way down, with volcanic crystals in the rock formations dazzling and twinkling like diamonds.
Gullfoss, which means 'golden waterfall' in Icelandic, is raw power in all its finest glory. This powerful force of nature is extremely beautiful in the winter when ice formations cover parts of the waterfall but do not freeze it completely over.
Geysir demonstrates the true power lying below Iceland's surface. These underground pools of geothermal water are exposed to extreme forces of pressure from tectonic activity, causing eruptions of boiling water and steam up to 70 m in the air.
Whatever the time of year however, make sure to bring plenty of warm and waterproof clothing, as even on gloriously sunny days, the temperature at all three sites of outstanding natural beauty can feel bone-chillingly cold.
For visitors who wish to see nature in the raw, south Iceland has it all. With affordable and varied accommodation located throughout the region, you really will not miss a thing in this stunning area of the country.