The Reykjavik Area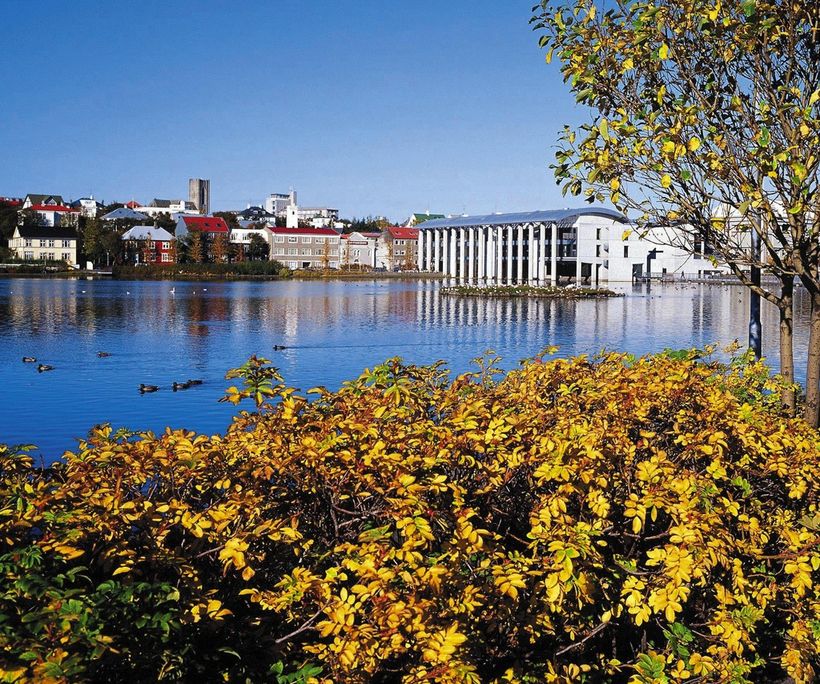 Reykjavik —Iceland's capital and largest city —is a true gem of the north.
Located at 64° north, the world's most northerly sovereign capital city is anything but cold and unwelcoming.
Reykjavik, which translates literally as "smoky bay', is a warm, welcoming and vibrant city to visit, whatever the weather or temperature.
With a population of just over 120,000, Reykjavik combines perfectly the style and feel of a modern and vibrant city with a traditional small village atmosphere. You will often hear natives exclaim, "Everybody knows everybody!"—and this is no myth!
As the centre of Icelandic government, commerce, finance and education, Reykjavik really does have it all, albeit on a much smaller scale than other capitals.
Central Reykjavik in particular is easy to navigate on foot. There are no trains or underground systems.
Instead, a reliable bus service is more than enough for those without a car for transport.
Reykjavik is a melting-pot of old and new. Classic Nordic houses made from wood with ornate high rooftops sit side-by-side with post-war concrete apartment buildings and high-rise glass multi-storeys.
In the harbour area, the ultra-modern and psychedelic-looking Harpa Concert Hall stands just a couple of blocks away from Iceland's parliament building, Alþingi, a traditional stone building dating from 1881 that still bears the royal crown of Denmark, a reminder of Iceland's pre-independence ties to the Danish monarch.
Hip-looking and independent cafés are strewn throughout the down town area. International "big brands"are still almost non-existent and Icelanders are generally happy to keep it that way.
Reykjavik has countless bars, pubs, cafés and nightclubs that regularly push the city to the top of lists when it comes to good nights out and places to party.
Icelanders love their food, and the city is certainly not lacking when it comes to places to eat. Whatever the budget, Reykjavik has an enormous variety of restaurants, bakeries, take-away joints and other food outlets that offer something to fit around what you want to spend. From fine dining to cheap and freshly prepared food, you will be spoilt for choice.
The city's main street, Laugavegur, cuts right through the heart of central Reykjavik, literally in a straight line, and is home to a wide variety of jewellers, boutiques, souvenir shops, charity shops, art galleries and even fur shops and taxidermists, enabling you to shop until you drop!
The city has many areas of green space and parks, popular with locals and visitors alike, especially during Iceland's surprisingly warm and pleasant summer months.
Reykjavik is a famously liberal and tolerant city and each August plays host to an enormous Gay Pride weekend which literally takes over central Reykjavík, creating a huge family-friendly carnival atmosphere wherever you go.
With international visitor numbers to the annual Gay Pride festivities rising year-on-year as well as at other major celebrations, such as the Iceland Airwaves music festival in October/November, Reykjavik is not just putting its mark on the world map, it is branding it!
Reykjavik is the perfect place to stay and feel at home. The city offers accommodation for everybody, perfectly catering for families, singles, groups, backpackers, no matter what age! From high-end hotels to hostel accommodation, guest houses, camping sites and budget hotels, they can all be found in and around the city.
But Reykjavik is also a city at one with its surroundings.
Located on the shores of Faxaflói Bay opposite the stunning Mount Esja, Reykjavik really is a city with nature right on the doorstep.
The capital is also the gateway to the rest of Iceland, with excellent road links to the country's ring road, officially known as Highway 1, just on the city's outskirts.
Reykjavik City Airport lies a stone's throw away from the central bus terminal BSÍ, offering air links to the major towns in the West Fjords, North and East of the country as well as other destinations in Iceland, Faroe Islands and Greenland.
For those who wish to see and learn more about Icelandic art, culture and history, the city's museums exhibit a huge range of contemporary and modern art alongside classic pieces and historical artefacts.
The Maritime Museum houses all sorts of nautical pieces and specimens, documenting Iceland's long and close association with the sea.
The Settlement Museum houses finds, archaeological treasures and documents dating back to the first settlers of the country over 1,100 years ago.
The city can be a perfect weekend destination or city break, a longer stay or as the beginning and end stop as part of a holiday exploring more of Iceland.
Whatever your itinerary, you will find everything you need right here in Reykjavik!
Velkomin!