Other activities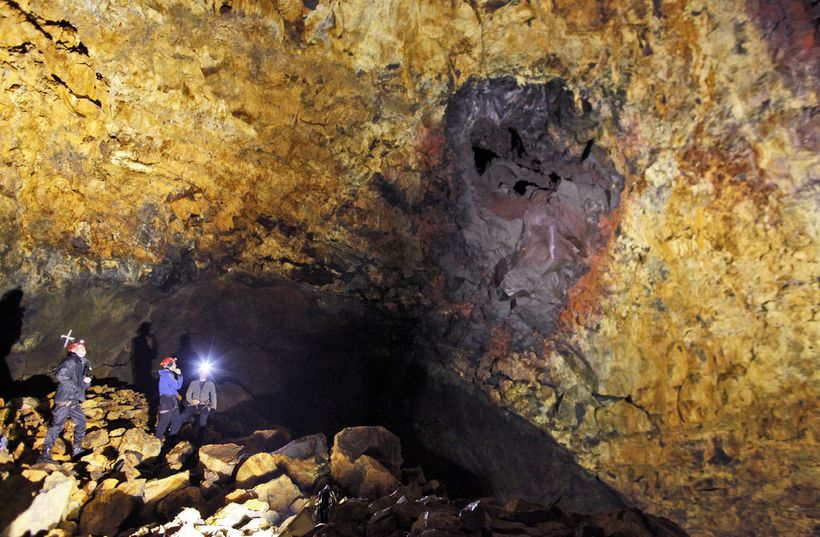 ATV MOTORBIKES
Exploring Iceland's rugged and varied terrain is a wonderful experience.
Exploring it on an All-Terrain Vehicle (ATV) motorcycle is even more exciting and fun filled.
These specially designed bikes are perfect for Iceland's rugged terrain such as over lava fields as well as on beaches and sand dunes.
A real adrenaline rush.
CAVING
Iceland's stunning network of caves are formed either by volcanic activity, glacial movements and excavations or along the coastlines and range in size from small to gigantic.
Caving is a wonderful experience to literally see inside the bowels of Iceland but should never be done alone and without an experienced tour guide at all times.
Guides can offer a huge range of tours that may also include abseiling and rock climbing, or for those feeling less adventurous simply just a walk-around tour.
DOG SLEDDING
Experiencing Iceland in the company of man's best friend(s) is a wonderful and fun experience, especially for families and groups with children.
These strong and resilient dogs work in packs and can run at surprisingly fast speed for long distances and are perfectly capable of pulling large amounts of weight.
These tours can be booked year-round and are especially fun in the winter months when snow fall is wonderful fun to be pulled through. Bear in mind trips are subject to weather conditions.
FLIGHT TRIPS
Iceland's spectacular natural wonders such as glaciers, mountains and volcanoes may look impressive from the ground, but up in the air they look even more stunning and impressive.
There are various local airports around the country that offer tours over local areas of specific interest and beauty or can be planned to take in a personal schedule.
Weather conditions apply and tours are mostly available during summer months only.
HELICOPTER SIGHTSEEING TOURS
If you have ever wanted to picture the natural wonders and unique landscapes of Iceland from a bird's point of view then a chartered helicopter trip is for you.
The sheer size of glaciers, mountain ranges and coastlines can only be truly appreciated from above. Also available are city tours of Reykjavík which show the capital in all its beauty and wonder.
FRESH WATER FISHING
As a nation that prides itself on producing some of the best fish in the world as well as having some of the most stunning rivers and lakes, Iceland is the perfect place to go freshwater fishing.
Whether it be favourites such as salmon, trout or Arctic char or other lesser-known varities that take your fancy, you can try hooking a winner no matter what region of Iceland you are you are in.
Permits can be expensive and often sell out well in advance so book early to avoid disappointment.
GOLF
Many may be surprised to learn that Iceland is a golfing nation with a wonderful variety of courses located throughout the country.
Set in spectacular locations including next to glaciers, on volcanic islands and even just below the Arctic Circle, playing a game of golf in Iceland is a sporting activity not to be missed.
With the summer months offering nearly 24 hours of daylight, a tee-off can take place, literally, day or night!
KAYAKING
Iceland's networks of rivers and rapids are perfect for kayaking, offering adrenaline-fuelled experiences that you will never forget.
Also available is sea kayaking, which gives those the chance to see parts of the country's stunning coastlines and marine environments, in particular getting up close to huge bird colonies that are otherwise difficult to observe from land.
RIVERJET
This is the perfect time and opportunity to become the ultimate daredevil on board Europe's only white-water jet boat, located on the Hvíta River, not far from Reykjavík and in the area commonly known as the Golden Circle.
Reaching exhilerating speeds and hitting waves and rapids with true power and ferociousness, this is an exhilerating experience not for the faint hearted. Iceland's water ways and canyon networks can truly be appreciated in this awesome and breath taking activity.
RIVER RAFTING
Iceland's many rivers offer the chance to get up close and personal with nature at fast speed in this exhilerating and physically demanding adventure tour. Working as part of a team to steer through the sheer strength and power of the water is fun, frightening and full of surprises.
The season is operated during the summer months, usually starting in May and ending in September.
SCUBA DIVING
Iceland's spectacular coasts, rivers and waterways are perfect for scuba diving and being below the surface will allow you to see and experience the country that, quite simply, isn't possible from dry land.
Cold water temperatures mean all trips, whether at sea or in rivers and volcanic/glacial fissures are dry-suit dives.
Experienced guides can accommodate first time divers as well as those more experienced.
SEA ANGLING
The rich waters around Iceland's stunning coasts really are a delight to fish in.
With in easy reach of shore are the perfect fishing grounds for deep sea angling and a habitat for some of Iceland's favourite fish such as cod, haddock and halibut.
Tour companies throughout Iceland provide boats that are fully equipped and have all the necessary on-board safety equipment. Many provide food and drinks on board and can accommodate groups of varying sizes, both large and small.
Fishing rods, tackle and other equipment are provided and those lucky enough to land a catch can keep it and take it away with them.
SNOWMOBILING
Iceland's iconic glaciers and snow-covered mountains are the perfect areas to explore by snowmobiles, with tours offering stunning views on board these powerful and awesome machines yet with all the safety and protection ensured from experienced operators and guides.
Snowmobiles are a perfect way to experiences Iceland's cold and hostile environments in all the raw, with the winter season providing the best snow fall throughout most of the country to make the trip really have that "winter wonderland" feel about it.
Tours are year-round but during summer months may be restricted to specific areas with available ice and snow cover.
Experiencing one of these thrilling and unbelievable tours really will make you feel that you've had a chunk of the "ice" in Iceland.
SUPER JEEP TOURS
Iceland prides itself on being a land of rugged, barren, unforgiving and often frightening landscapes.
In order to experience these you need a vehicle that is as agile and versatile as it is strong, powerful and able to deal with what ever landscape is presented to it.
Super jeep tours offer the chance to truly conquer and explore some of Iceland's most extreme of landscapes with the comfort and security of a modern and reliable vehicle.
Highly modified Sports Utility Vehicles (SUVs) that literally dwarf and tower over lesser modes of transport are the only machines truly capable of mastering some of Iceland's most demanding physical features such as glaciers, canyons, mountains, rivers and volcanoes.
Safety is of paramount importance and all tours are operated by guides and drivers with extensive knowledge and experience.