Arriving at the airport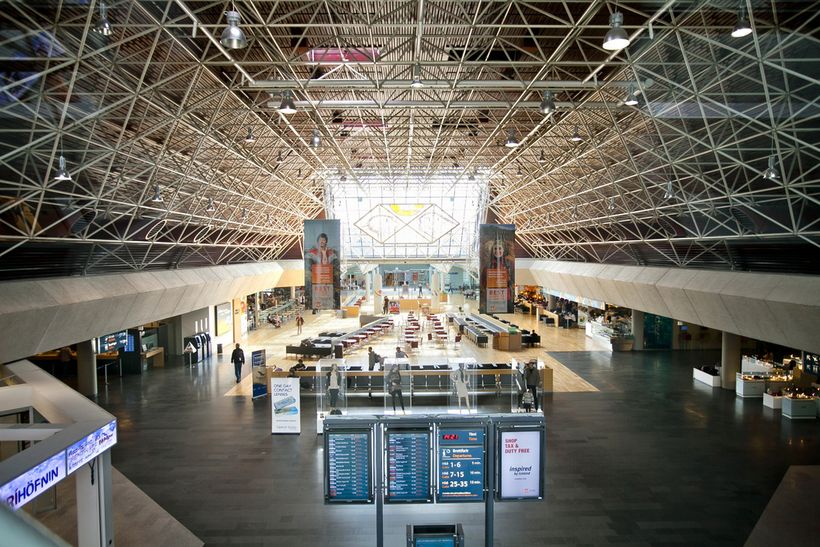 Leifur Eiríksson International Airport (KEF), commonly referred to as Keflavík Airport, lies approximately 48 km outside of Reykjavík and is the main entrance for visitors to Iceland.
The airport is relatively small in size and has a modern, light terminal building which has repeatedly won awards, including Europe's Best Small Airport.
Car-rental firms are located close by for pick-up and drop-off points for hire vehicles.
Around the airport and in the nearby town of Keflavík are many hotels, guest-houses and B&Bs for those wishing to stay close by.
The airport is located on the former US Air Force Base and was originally constructed during the time when US forces were based in the country.
The airport is open 24 hours a day and contains many duty-free shops, retail and food outlets as well as currency exchange points and wi-fi throughout.
Iceland's famous Blue Lagoon is only a short drive from the terminal, and for visitors with only a short stop-over time in Iceland it is easy to visit the Lagoon and return to the airport in time for their connecting flight.
The journey from the airport to Reykjavik takes approximately 45-50 minutes depending on weather and road conditions and provides a spectacular view of the surrounding mountains, lava fields and glaciers as well as the ocean.
Regular bus and coach services take arriving passengers to Reykjavik's main bus terminal (BSÍ), with transfers available to most hotels, guest houses and hostels. Tickets can be purchased at various outlets based in the main hall of the building and also on board the buses.
Taxis are available but are considerably more expensive.
Buses are scheduled to depart from Reykjavík in time for all departure flights. Schedules are listed online and specific buses can easily be reserved through your hotel or hostel reception. Please allow ample time to arrive at the airport if weather conditions or road surfaces are affected, particularly in winter months.
It is advised for all departing flights that visitors arrive at the airport at least two hours prior to departure.
Reykjavík Airport (RKV), is located in central Reykjavík, just behind the BSÍ terminal and is the base for domestic flights with in Iceland and international flights to and from Greenland and Faroe Islands. Incoming and outgoing flights fly over the main down town area, and for flight enthusiasts there are several parks located close to the airport where planes pass over and can be easily photographed.