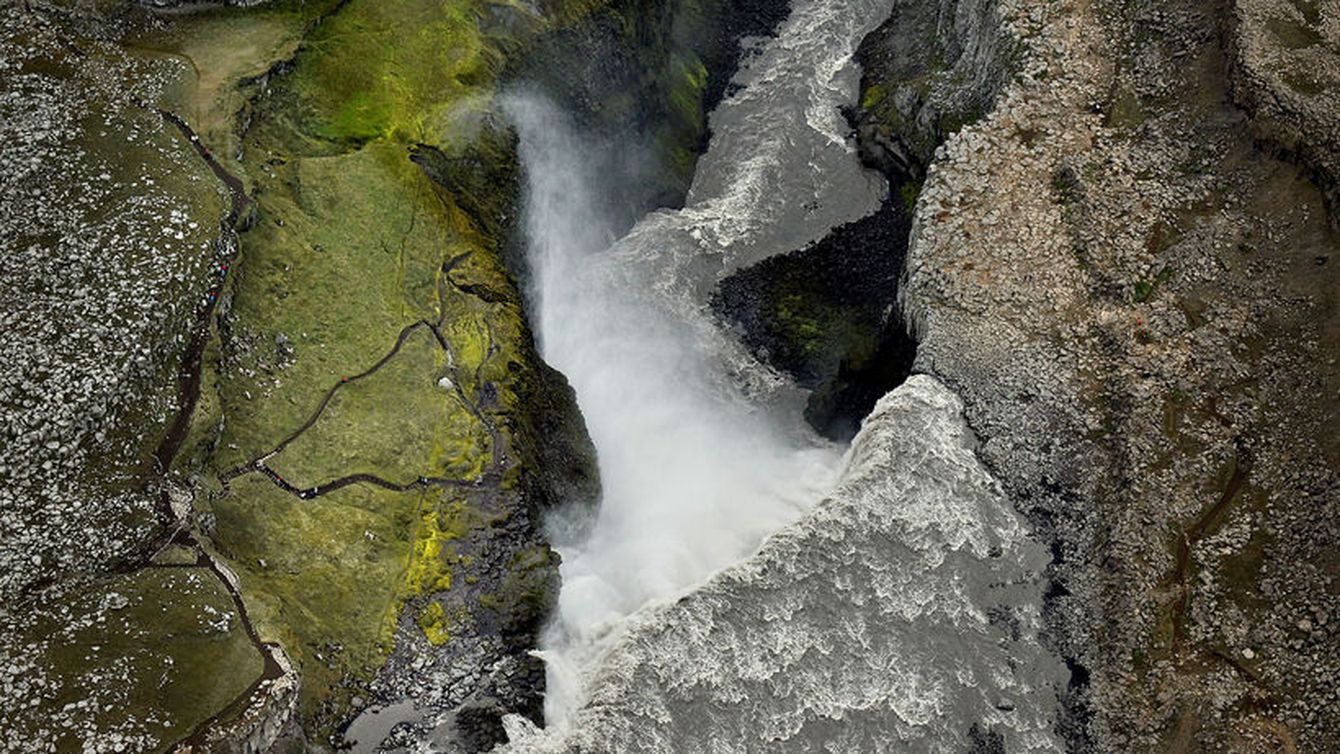 Sponsored
|
mbl
|
27.8.2018
|
9:00
|
Uppfært 28.8.2018 9:30
Westeros Unveiled
Snowy grounds, magnificent mountains, weirdly formed lava, ravines and a cave for lovemaking have all been shooting locations in Iceland for the amazing phenomenon called Game of Thrones. Logically, most of these scenes take place in the icy north of Westeros; beyond The Wall. And now I have found my way to Iceland, where I am going to take a tour, following in the footsteps of the characters that have kept us glued to the screen season after season, with their greed for power and desire to survive.
Chop, chop, let's get on the bus! I'm welcomed by the the guide Helgi Snær (meaning Holy Snow!) who actually looks like he could be Tormund's brother. Let's hope he is less wild. Or not.
We leave Reykjavík heading for some GOT locations from season 4, but start by visiting the only actor we meet on the tour. We drive through Mosfellsbær (Moss Mountain Town) which is home the to the world famous band Sigur Rós's recording studios. As you might remember, the band performed at Joffrey's wedding, not so much to the groom's pleasure, so he ended up throwing coins at the them. But we also all know what happened to Joffrey later that day. "So that's what you get from throwing things at Icelanders," Helgi Snær explains, which could be a helpful tip for tourists.
We drive on and then, voila! the GOT actor Vængur! A horse. We also meet his friend Svaki that was just an extra. Those guys were in the scenes where Sandor "the Hound" Clegane is taking Arya Stark to the Eyrie Castle to get ransom from her aunt Queen Lysa. Since the Icelandic horse is quite small, they had to search high and low for the biggest horses in the country and found Vængur and Svaki. But they were still too small for the huge Hound to ride, so we just see them in the background. And now we are here with Vængur, one degree of separation from stardom. He is sweet and makes friends with all of us. We can pose with him, hug him and pet him. But Helgi Snær warns us never to call an Icelandic horse a pony, or it might turn against you, because it's not a pony. Just small.
The first actual GOT location we arrive at is the only one in Iceland that does not take place north of the Wall. It's a waterfall, called Þórufoss, the Waterfall of Þóra. Not too famous in a country of a million "fosses." A pastoral scene takes place here; a young boy is watching over his goats. And these are some precious goats, as there are only around 1,000 goats left in Iceland; they came over with the Vikings 1,100 years ago. Unlike with their idolized sheep, Icelanders never really knew what to do with them, but at least now they are acting in a TV-show. In the scene, a dragon appears from underneath Þórufoss and spits fire on one of the goats, puts its sharp claws into it and flies away with it burning in its maw. Quite grisly, but for your information, no animals were harmed during the filming of that scene. It was only make-believe.
Iceland is not featured in the first GOT season, but, according to Helgi Snær, it's when they needed a place for Lord Commander Mormont to patrol the the Night's Watch, and a harsh, barren wasteland for the Wildlings to survive in, that they discovered this amazing island in the Mid-Atlantic Ocean. They filmed during wintertime - with five hours of daylight - so no fake snow was needed, we can see the actors' breath and for-real freezing ears. Most of the scenes were shot in the Lake Mývatn area, like the famous cave scene with Ygritte and Jon Snow. "Remember the cave Jon? We should have stayed in that cave." Yes, Ygritte, we all remember.
Before this tour, I had taken a spectacular Game of Thrones air tour with Circle Air over Lake Mývatn and surroundings. We left from the Akureyri, the "capital" of the north. When flying down the fjord Eyjafjörður and approaching the inland, majestic landscape came into view; this splendid plateau, into which rivers had through time drawn beautiful pictures with their swirly, deep blue lines. Watching in awe from my seat, I got the feeling that there is a constant ongoing battle for the land. I could see how sheep had dug little paths into the ground, man-made roads threading their way through the wasteland, leaving a scar. The humongous river Skjálfandafljót makes its way mercilessly to the sea, ripping into the land with all its power. And there was Holuhraun, the most recent lava field in Iceland that invaded 33 square miles of the land and will now hold it captive till the end of time. Animals, men and the forces of nature, all up against the land. And the splendid queen mountain Herðubreið just shows off her beauty and does nothing about it! I think we need Daenerys to teach her how to be a real Khaleesi.
In the area of mountain Hengill are lava formations dating from the ice age. Lava pushed its way through and out of a glacier that was here at the time, and cooled down very quickly, which explains the weird shapes. No wonder they chose to film here. Not only is the landscape so beautiful that I don't know which way to turn with my camera, but physically and emotionally dramatic things happen here and suit the environment perfectly: The Hound and Arya get attacked by two stupid Lannister soldiers and one of them bites the Hound in the shoulder. He is stitching the wound when Arya suggests he burns it for it to close. But he hates fire; as we all know, his brother Gregor "the Mountain" Clegane gave him the scar on his head. So Arya stitches the wound, awww... they are friends now! Brienne Tarth enters the scene and wants to take Arya away because she promised her mother, Lady Catelyn, to always protect her daughters. But how can Arya trust a lady who has a Valyrian steel sword from Jamie Lannister? The Hound also wants his ransom, so he fights Brienne, underestimating the best female fighter in Westeros. He gets so badly injured that he asks Arya to kill him, but she leaves him to die alone. Wait, are they not friends anymore? Well, such terrific scenes, right?
Next stop is the geologically unique Thingvellir, which is a national park and a UNESCO heritage site. It has a weight in Icelandic history; the first parliament was established in the year 930, then Icelanders took the Christian faith here in the year 1000, and finally they declared independence from Denmark in 1944 in this magnificent place. There are three GOT locations in this area. First this ravine, which is actually where the Eurasian and the North-American tectonic plates meet. In GOT, the ravine is the path that leads to the Bloody Gate of Queen Lysa's castle, which has the infamous Moon Door. Sansa and Petyr Littlefinger walk along that way when he is taking her to safety at her aunt's, as she is thought to be an accomplice in poisoning Joffrey. The Hound and Arya walk the same way when going to collect the ransom from Lysa. But, thanks to Littlefinger, it's too late, Lysa is dead - to Arya's great amusement.
The wildlings also camped here and made a bonfire. It's when Tormund doubts Ygritte's loyalty, as she didn't kill Jon Snow. To prove that she is going kill him, she makes more arrows, that are going to "find their way into the Crow's heart." She threatens to shoot anybody who kills Jon: "He's mine!" Yes, he is, Ygritte, in every way.
And last but no least is when Arya is riding our friend Vængur after leaving the Hound to die, trying to get back to Winterfell. She passes Öxarárfoss, Ax River Waterfall, a waterfall with character - and an appropriate name. It's not high, but it's an impressive drama-queen, splashing down to the stones underneath her with a lot of attitude. Following Helgi's advice we drink from the Ax River, and to go with our refreshing drinks we grab a few leaves of Hundasúra or Sheep's Sorrel, which is this citrusy wild plant with a good aftertaste. All-natural snacks, free of charge.
Vængur and Sigur Rós are not the only Icelanders to perform in GOT. When Arya arrives to Braavos in the 6th series, the first people she sees are Icelanders! The Icelandic band Of Monsters and Men play on a balcony above the stage where the play The Bloody Hand about Cersei is being performed. And I bet she was happy to see them, as the actress Maisie Williams is a big fan of the band and the band a fan of the show. Mutual starstruckedness!
Then, we have the strongest man in the world 2018, Hafþór Júlíus Björnsson, who has played the Mountain, the Hound's brother, for three seasons. He is actually killed in season 4 by Prince Oberyn of Dorne, who wants to avenge his sister and her children that he killed. But Cersei is not willing to let go of that mighty Viking and has him revived into a zombie giant.
Actor Jóhannes Haukur Jóhannesson plays Lem Lemoncloak in the 6th season, but is basically being mean and evil, so the Hound, who is trying to be a better man after surviving the duel with Brienne of Tarth, hangs him. One ought to behave.
Our last location is the Þjóðveldisbær or a farm that was built during the Commonwealth Era in Icelandic history; 930-1262. Well, it's not the original farm, but this one was rebuilt, along with a little church, in 1974 to celebrate 1,100 years of settlement in Iceland. It's Olly's village in season 4. Remember Olly, who actually kills Ygritte in the battle for Castle Black? Well, in this tiny village, his father and mother got massacred (and possibly eaten) by the wildlings. We understand you want revenge, but that was just not the right wilding to kill, Olly dear.
We wrap up the tour by going to the geothermally active Hveragerði and visit its homey rock museum. This is a huge collection that should be interesting to fans of geology - or beauty - but what matters here is to admire the volcanic stone Obsidian, that is believed to have powerful metaphysical properties that shield you against negativity. Also known as Dragonglass in GOT, it is, along with Valyrian steel, one of the two known substances capable of killing White Walkers. If you are planning to come here during wintertime, you never know if White Walkers are going to be lurking around.
That was a good one! Such a satisfying feeling to be in a group of people who - just like you - all gasp in awe over every detail about GOT and nod approvingly to each other, while feeling the goosebumps from the mere thought of being where these characters/actors have been. Also, to be admiring the land, walking on it, eating and drinking from it, at the same time as being engulfed by stories of your favorite people, along with being fed with Holy Snow's captivating bits of knowledge about the fauna, flora and history of this wondrous island. Watching the endless conflict within the nature and against human nature manifest itself in the forms of the landscape, shapes within it and decorations of crooked patterns made of roads and paths, reassures you that there will never be an end to the Game of Thrones. Good.