News
|
Iceland Monitor
|
Tue 9 May 2017
|
15.52 GMT
Emergency airplane landing on a road in North Iceland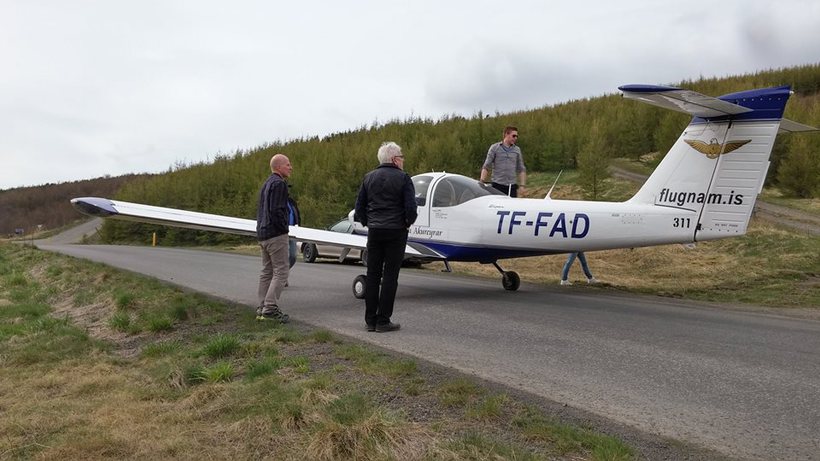 The pilot doesn't seem to have had much time to react and land the plane. Photo/Hans Rúnar Snorrason
A small airplane had lost power when flying close to Akureyri, North Iceland. The pilot managed to land on Eyjafjarðabraut vestari, a road south of the town.
A teacher and an aviator student were aboard the plane and both were unharmed after the incident. The plane is not believed to have sustained much damage.
Drivers passing by were understandably surprised when the plane got closer and closer, and stopped their cars to allow the plane to land. One of them took this picture below.
Hans Rúnar Snorrason, teacher at Hrafnagilsskóli, which is nearby witnessed the incident. "The pilot did a great deed as I see it. I don't think he had much time to turn the plane around to land it. When it flew over the school it was flying low, and it sounded strange, like the engine wasn't running properly. It flew behind a hill and I feared the worst. My daughter and my wife are both studying in the school that owns the plane, so I am familiar with it."
Snorrason ran to the plane, where he met the pilot and his pupil safe by the plane on the road. "I think it's safe to say it's lucky this turned out as well as it did. I believe good reflexes and quick thinking saved the day. I know this plane is very old and hasn't much left in it, I think it was the end of it."