Nature and Travel
|
Iceland Monitor
|
Tue 29 Aug 2017
|
20.35 GMT
Rick Steves budget tips for Iceland: Bónus, happy hour and Airbnb
Well known travel writer Rick Steves is busy writing his guidebook Rick Steve's Iceland, out in March 2018. On his blog however he's published a few budget tips for Iceland travels.
Among the tips he's included is skipping out on the Blue Lagoon, going shopping in supermarkets Bónus and Krónan for picnics, seeking out happy hours to economise on alcohol, going for Airbnb and rental cars rather than hotels and coaches and eating large lunches at restaurants and small dinners.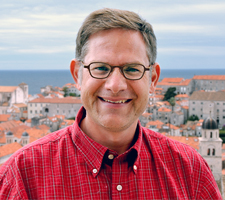 Guidebook author and travel TV host Rick Steves is America's most respected authority on European travel Screenshot/ Rick Steves blog
Rick Steve's Budget Tips for Iceland
He does however recommend saving the money for great experiences.
. When you do splurge, choose an experience you'll always remember: If you're a naturalist, invest in a whale-watching tour; if you're a foodie, take a culinary walk, or dine out for at least one top-end restaurant meal; if you're an adventurer, spelunk through a lava cave or hike across a glacier. Minimize souvenir shopping — most shops sell things that are extremely expensive, produced outside of Iceland, or both. (Plus, how will you get it all home?) Focus instead on collecting wonderful memories."