Nature and Travel
|
mbl
|
Thu 11 Feb 2016
|
10.31 GMT
|
Modified 3 May 2016 15.58
Sleep in a transparent bubble under the stars in an Icelandic forest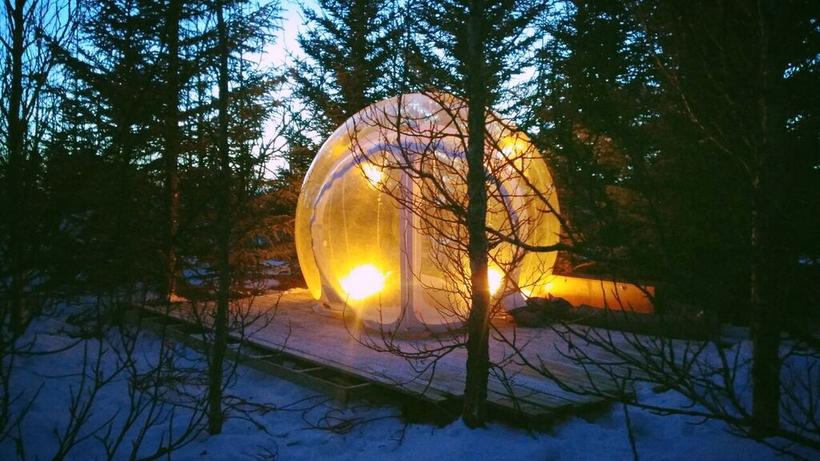 A view of nature above and all around at the Bubble, in Bláskógar, Biskupstungur, Iceland. Photo/Róbert Sveinn Róbertsson
Anna Margrét Björnsson


Staying overnight in the Bubble, a sci-fi looking transparent dome in the middle of a forest in Biskupstungur, South Iceland has become quite the rage. The Bubble, also called "The five million star hotel," is fully booked for this entire spring.
The bubble, which obviously gives its guests a pretty unique experience by sleeping under the stars whilst keeping warm, was set up by entrepreneur Róbert Sveinn Róbertsson in December. "International media are constantly writing about this. I'm concentrating on offering the accommodation during the wintertime, so that people can see the Northern Lights and the starry sky," Róbertsson explains. "Bookings have surpassed all expectations and the Bubble is booked up until spring. I get around 15 emails a day from people asking to be put on a waiting list." He adds that most of his guests have been from the US, from Asia and the UK.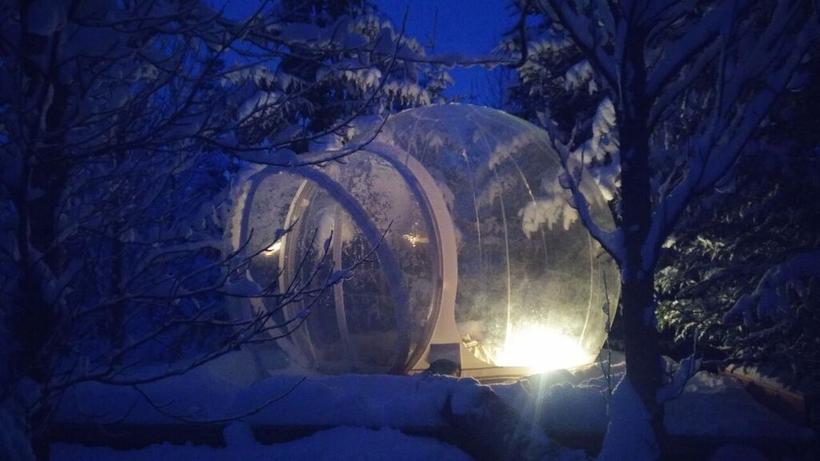 Sleeping in the bubble is a unique experience due to the proximity to nature. Photo/ Róbert Sveinn Róbertsson
The Bubble is a dome-like structure made from transparent plastic into which warm air is pumped at a steady rate, keeping it inflated, and warm. Róbertsson explains that he was looking for a bubble to fit Icelandic weather conditions. It's located on a wooden platform, sheltered by the trees and contains a comfortable double bed. An outside toilet is located nearby, and showers can be found at the nearest swimming pool or at the luxurious Laugarvatn Fontana Spa. Róbertsson stayed in the bubble for a whole month himself to give it a test run.
"Lying inside the bubble is just wonderful. To turn all lights off and be outside in nature. The world and the sky somehow just open up to you. It's a very unusual experience that I can't really describe."
According to the Bubble's website: "Some childhood dreams stay with us for our whole lives. Sleeping under the stars or watching the aurora borealis dance is one of those lifelong dreams. To fulfil these dreams the Bubble concept was born. It enhances the interaction with the place while respecting the environment and is a unique form of sustainable accommodation offering the comfort of a deluxe hotel. Hope you will enjoy it."
The Bubble is enjoying so much success that Róbertsson intends to add a further two bubbles and to improve services for guests. "I'm also looking to cooperate with local foresters. This kind of accommodation is perfect for woodlands and could be a good options for foresters who are looking for an extra income. The Bubble can be developed into all kinds of directions, luxury stays or health related holidays, even yoga holidays. The ideas are endless."
Staying at the Bubble costs less than $200 per night and sleeps two. For more information visit the website HERE.