Nature and Travel
|
Iceland Monitor
|
Mon 25 Jan 2016
|
20.00 GMT
|
Modified 23 Aug 2016 11.55
Mountain in Iceland highlands named after 19th century British explorer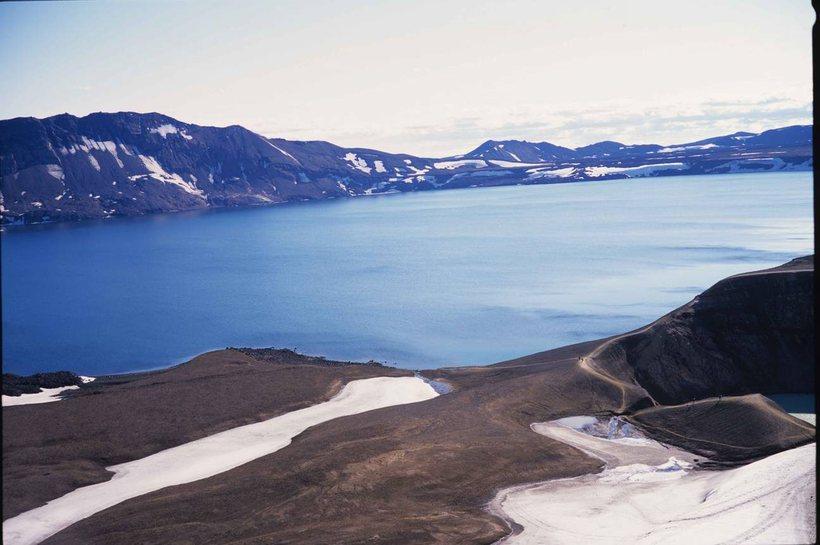 Volcanic Lake Askja with Mount Þor­valdstind­ur to the left, crater Víti to the right and Watts­fell in the center, furthest to the south. Photo: Mbl.is
Mount Vatnsfell in the central highlands near Askja will from now on be called Wattsfell according to a new decree by the Icelandic place name committee. This is in honour of British explorer William Lord Watts.
Watts travelled to Iceland three times, in 1871, 1874 and 1875 specifically to cross Vatnajökull glacier. In 1875 he completed the mission to traverse the glacier, and was the first person to do so, in the company of five Icelanders.
In his book, Across the Vatna Jökull he describes his stay on the glacier thus:
"This was the manner in which we now camped, six of us occupying the sleeping-bag, much after the manner of sardines in a sardine box, the remaining four, who were only to accompany us as far as Mount Paul, made themselves as comfortable as they could with rugs and mackintosh coats in the front part of the tent. I ordered every man to fill his flask with snow and put it in his pocket, that each might have a drink of water when he awoke, and in the course of an hour nothing could be heard but the heavy, stentorian breathing of nine out of ten of our party.
Having posted up my diary, I slept well for an hour, when I was awakened by a sudden commotion at the other end of the tent. I called out to Paul for an explanation, saying, "Holloa! what's the matter at your end?" He replied in a deep, solemn voice, " Now is the dumb beating his feet." Although our dumb friend's feet were doubtless cold, I could not allow that method of warming them in a tent only 10 by 6 1/2 feet, and I therefore directed that another man should chafe the dumb man's feet and cuddle them up in his arms. The morning brought us only fog and storm, but after a few hours the latter abated."
Vatnsfell was previously called Wattsfell, having been named so in 1910 but in 1941 it was decided that the mountain should bear an Icelandic name.
Icelander Víðir Gíslason from Akureyri, who has long studied the journeys of Watts began the process of trying to get the mountains name changed back in 2003.
The name Wattsfell will therefore appear on all new maps of Iceland.
William Lord Watts was born in London in 1850. He studied geology at Kings College, London and was a great mountaineering enthusiast. In 1877 he moved to Los Angeles in the USA to conduct geological studies in connection with mining and oil extraction. He died in 1921.