Nature and Travel
|
Iceland Monitor
|
Wed 18 Nov 2015
|
12.30 GMT
|
Modified 31 May 2016 14.15
Frozen world: Ice climbing in Europe's largest glacier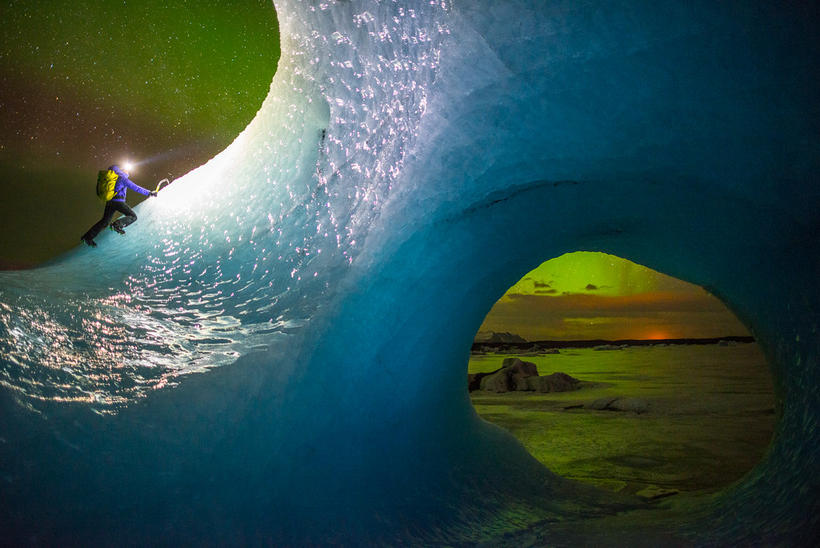 This photo of Rahel Schelb, a full-time teacher in Switzerland and part-time professional climber, was one of the highlights for Tim Kemple on the Vatnajökull expedition. Photo/ Tim Kemple, 2015
This is an era in which we've seen it all before—a dilemma, certainly, for photographers in 2015. Just about every single landscape in the world has been photographed at this point. Opportunities for new adventure and striking photography, it might seem, teeter on the brink of extinction.
Tim Kemple, a photographer, filmmaker, and co-owner of the Camp 4 Collective production company in Salt Lake City, Utah, says it's exactly this predicament that is his greatest source of inspiration. "We're in this new age of exploration right now," says Tim. "It's no longer enough to merely stick a figure in a landscape and call that photography."
For Tim—who climbs at a world-class level, meaning 5.14 sport climbs, V13 boulder problems, and free-solo (no ropes) ascents of hard rock climbs rated 5.13—adventure doesn't have to be scary. Tim insists it doesn't have to be as life-threatening as some of his more dangerous ascents have been.
The one ingredient adventure does need, Tim says, is the element of the unknown—the sense that what you might find, and whether you will be successful in your mission, hangs in the fog of uncertainty.

Being uncomfortable, ironically, is what brings out the best in us.
So with all these motivations in mind, Tim conceived of the idea to travel to Iceland to journey down into the icy, cavernous belly of Europe's largest glacier with a new and diverse group of people, in order to try to re-interpret this stark and ephemeral kingdom through his own unique perspective.
"I knew we were going to find ice caves," says Tim. "I just wasn't sure if we were going to be able to climb in them."
Kevin Harrington and Anton Lorimer, two staff at SmugMug, strapped crampons onto their boots for the first time in their lives and stepped tentatively onto the frozen massif of the Vatnajökull an ice cap so large it can easily be seen from space.
Read the article on the expedition on the SmugMug website HERE, and below is a video on the expedition.