Eat and Drink
|
Iceland Monitor
|
Tue 27 Sep 2016
|
21.00 GMT
Japanese Manga style teahouse opens in Reykjavik's hip Grandi area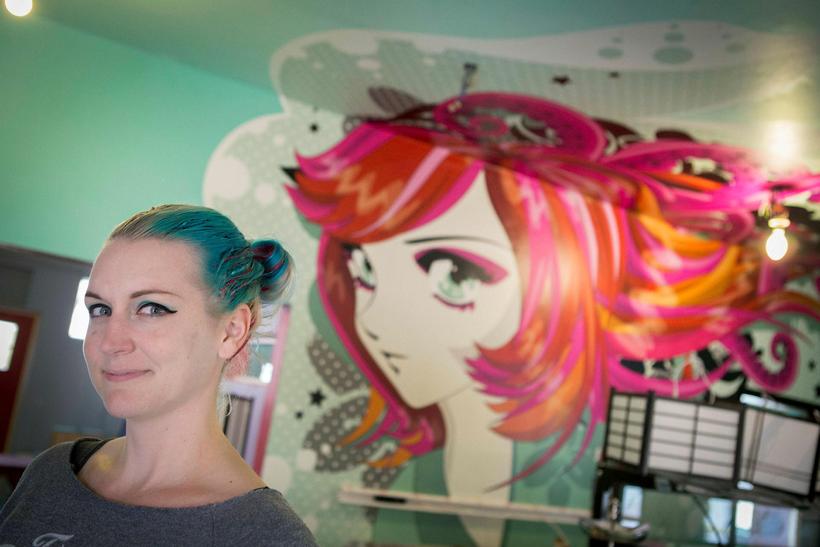 Sara Hochuli at the new Kumiko tea house. Kumiko, a Manga character, can be seen here on the wall. Photo/mbl.is
Swiss artist and pastry chef Sara Hochuli fell in love with Iceland at the Iceland Airwaves music festival in 2009. Now she has moved to Reykjavik and is opening Kumiko, a Japanese tea house offering colourful cakes and a Manga influenced menu.
Hochuli owns a similar tea house in Zürich called Miyuko and tells Morgunblaðið that she's full of crazy ideas. "They just come to me and all I can do is act on them."
Kumiko, which is set to open next weekend in Grandagarður in the hip harbour area of Reykjavik, specialises in green tea from Japan and incredible Manga-inspired cakes. Kumiko is a Manga character created by Hochuli a few years ago and an illustration of Kumiko adorns one of the walls of the new tea house.
Grandi, which used to be a rather run down industrial harbour area has sprung to life in the last couple of years, with plenty of artists and musicians relocating there. It's sort of like Reykjavik's answer to the meat-packing district, except this would be more of a fish-packing district.
At Grandi you will find plenty of interesting shops and restaurants and gourmet food shops.
Hochuli is cooperating on super trendy Icelandic chocoalte Omnomm and puts a strong emphasis on quality ingredients.
"The cakes have to taste nice, at least as nice as they look." Hochuli, who is a graphic designer says she's often asked why she's now making cakes. "I point out that I'm graphically designing the cakes," she says and explains that almost anything can be made out of edible ingredients such as sugar and chocolate. She also prints on edible paper made out of rice.
Hochuli and her boyfriend Dominik as well as their friends and family have worked hard to prepare the opening of the new tea house. "We've done a lot ourselves because we can't afford builders. We're really lucky to receive help from our families." The Zurich tea house, Miyuko is like a sister tea house to Kumiko, with Miyoko also being a Manga character created by Hochuli. "I thought Kumiko would fit in really well in Reykjavik. Her pet is a little octupus, perfect for this place."
Hochuli is hoping that people will be enthusiastic to this colourful addition to the Grandi area, both locals and tourists. "I think Icelanders are really open to new things, they're always ready for new adventures."
The couple are happy living in Iceland but spend a lot of time still in Switzerland. "It suits us really well to have a home in both places. It's too hot during the summer in Switzerland, I like the summer temperature in Iceland.
See the Kumiko website HERE.