Culture and Living
|
Morgunblaðið
|
Sun 12 Aug 2018
|
11.38 GMT
|
Modified at 12.15
Icelandic PM visits Icelandic settlements in North Dakota and Manitoba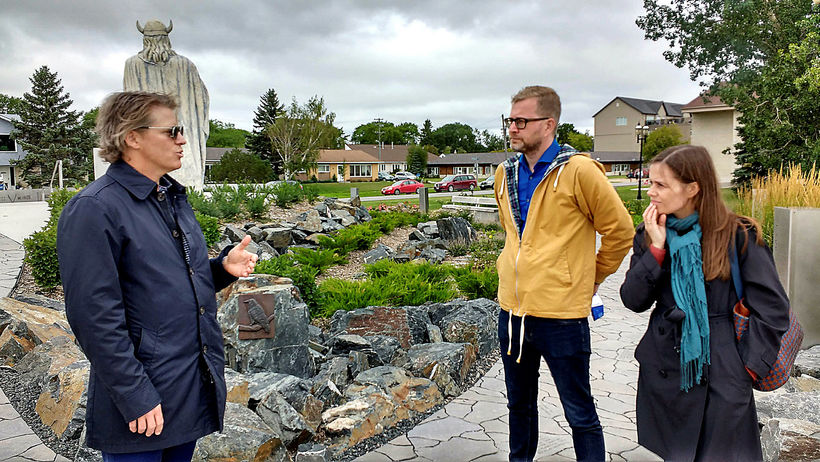 Grant Stefanson, director of the Icelandic day committee speaks to Katrín Jakobsdóttir and her husband Gunnar Sigvaldason. mbl.is/Steinþór Guðbjartsson
Icelandic PM Katrín Jakobsdóttir says that her recent trip to North Dakota in the US and Manitoba in Canada left her enriched with experience and that she felt a great deal of warmth from the people she met. Jakobsdóttir was there to visit the places where Icelanders settled (ca.1870- 1914).
The Prime Minister was a special guest of honour at the Icelandic festivals in Mountain and at Gimli. "Despite having read about the Western Icelanders and seen television programmes I have never been a specialist on the subject and this visit taught me a lot," she said speaking to the Sunday edition of Morgunblaðið. "I learned at school that many Icelanders left Iceland due to a number of hardships and now I know much more about what happened to them."
Katrín segist finna fyrir vaxandi áhuga á Íslandi á umræddum samskiptum. Jakobsdóttir feels a surge of interest in Iceland in the Western Icelanders especially following a tv programme in Iceland on the subject. Icelanders are increasingly visiting these areas and she points out that over a hundred Icelanders were on organised trips there at the same time that she was.
In Manitoba there has been a great emphasis on Icelnadic culture and Western Icelandic paper Lögberg Heimskringla is one of the oldest papers in Canada. There's a special department in Icelandic studies at Manitoba University in Winnipeg. .
Katrín Jakobsdóttir and Joel Friðfinnson unveil a memorial for Sigtryggur Jónasson, the father of New Iceland. mbl.is/Steinþór Guðbjartsson
The Icelandic department at Manitoba University is very important to keep communication alive because people lose the language. It's however incredible how many people still speak Icelandic and adhere to certain cultural events despite being in a different country."
The Prime Minister also met with Canadian filmmaker Guy Maddin who is Icelandic by ancestry and got to hear what project he is making using Iceland as the setting.