Culture and Living
|
Iceland Monitor
|
Sat 22 Jul 2017
|
10.00 GMT
To be, or not to be a "dóttir"?
Icelandic naming conventions have been up for debate during UEFA Women's Euro 2017.
Instead of using their first names on the back of their jerseys the players on the Icelandic National Team sport their last names, most of which, as Icelandic tradition dictates, are patronymic.
While some Icelanders inherit family names, most Icelanders are named for their father and in some cases mother. This means that in place of a traditional last name, Icelanders use the first name of their parent and then add either –dóttir (e. daughter) or –son.
In Iceland, the players are identified by their first names; the last names aren't considered identifiers unless paired with the other names. Therefore, it looks strange to some to see the women's patronymic last names on their jerseys. A lively discussion concerning traditions, branding and feminism has taken place on social media, where some have linked the use of last names to the patriarchy.
However, just as was the case during the men's tournament last summer, the Icelandic National Team chose the names on the back of their jerseys themselves.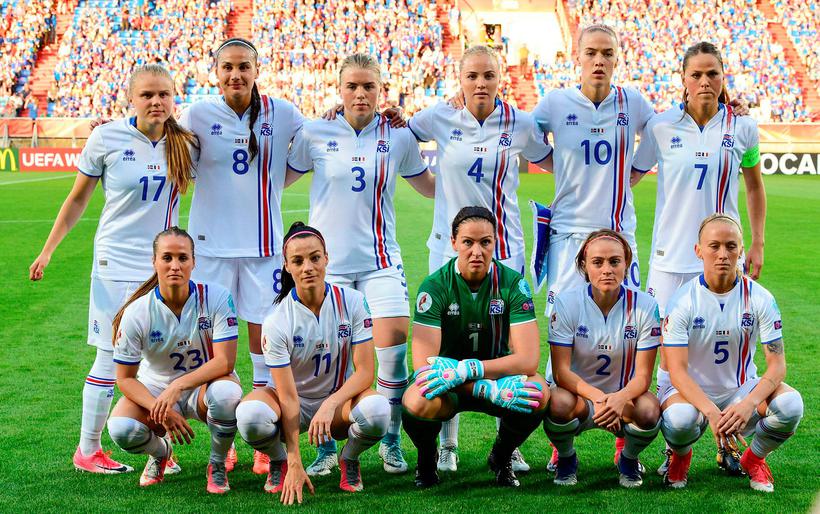 Iceland's national soccer team players (From L, Back Row) Agla Maria Albertsdottir, Sigridur Gardarsdottir, Ingibjorg Sigurdardottir, Glodis Viggosdottir, Dagny Brynjarsdottir and team captain Sara Bjork Gunnarsdottir and (From L, Front Row) Fanndis Fridriksdottir, Hallbera Gisladottir, goalkeeper Gudbjorg Gunnarsdottir, Sif Atladottir and Gunnhildur Jonsdottir pose for a team photo prior to the UEFA Women's Euro 2017 football tournament match between France and Iceland. AFP
Defenders Sif Atladóttir and Glódís Perla Viggósdóttir were asked about the choice during a press conference yesterday in Doetinchem where Iceland will play against Switzerland today.
Sif said that the names had been voted on, and that even if the team has played matches with their first names on the jerseys in the past, the players feel the word "dóttir" unites them.
The team was unanimous in its decision and the players have taken to using the hashtag #dottir on social media.
"It's originally from the world of crossfit where our stars, who are great role-models for us and all Icelanders, got this name, "dóttir. It stands for being tough as nails and incredibly cool," Glódís Perla explained.
"That was what we wanted to bring to this tournament. That's why we decided that it would be our hashtag in the tournament. It's our distinction, gives us extra energy and is just Icelandic."
So there you have it, the women have spoken! For the rest of us, it may be good to remember the ageold viking saying:
"In a world full of Kardashians, be a dóttir!"