Culture and Living
|
mbl
|
Thu 11 May 2017
|
19.59 GMT
Where art and designer clothing come together
Sóley Björk Guðmundsdóttir


I had heard of both designers, Magnea Einarsdóttir (brand: MAGNEA) and Anita Hirlekar (brand: ANITA HIRLEKAR) before happening upon their store A . M . Concept Space in central Reykjavik. They are both of them successful Icelandic designers and the clothing they create, though very different, has caught my eye many times.
The best way to describe the store is that it's different. Not surprising when two fashion designers are running the show. There were two clothing racks inside white frames. The walls are decorated with large paintings.
Each designer has her own clothing rack. Magnea with her innovative knitwear, mixing Icelandic wool with other unexpected materials like rubber or satin. Anita Hirlekar's rack is a bit more avant-garde. Much of her clothing has many different colours and patterns, the fit is not always traditional and the fabric is different, as you can see in the pictures below.
Both of them beautiful in their own right.
A new artist every two months
The space can't by any means be called a clothing store, it's more than that. They title it a concept space, which is fitting. Where art and designer clothing come together. Every two months they'll get a new artist to decorate the space as he wants it. Their clothing and how it's presented somehow becomes a part of an art installation. There is nothing quite like it in Reykjavik.
"We want the space to be a clash between a concept store and exhibition space. We want to have our design on a level where it can be viewed as an expression. People can come by to look and enjoy, not necessarily to buy. We are playing around with the concept," says Magnea Einarsdóttir.
The space is on Garðastræti 2 and is open on Thursdays, Fridays and Saturdays in May. Possibly more over the summer according to Magnea. The designers have their studios in the back and are often around even though the space isn't open, so it's easy to contact them for a visit outside opening hours.
Anita and Magnea often stand watch in the space themselves which makes for a great opportunity to discuss the clothing with the designer herself.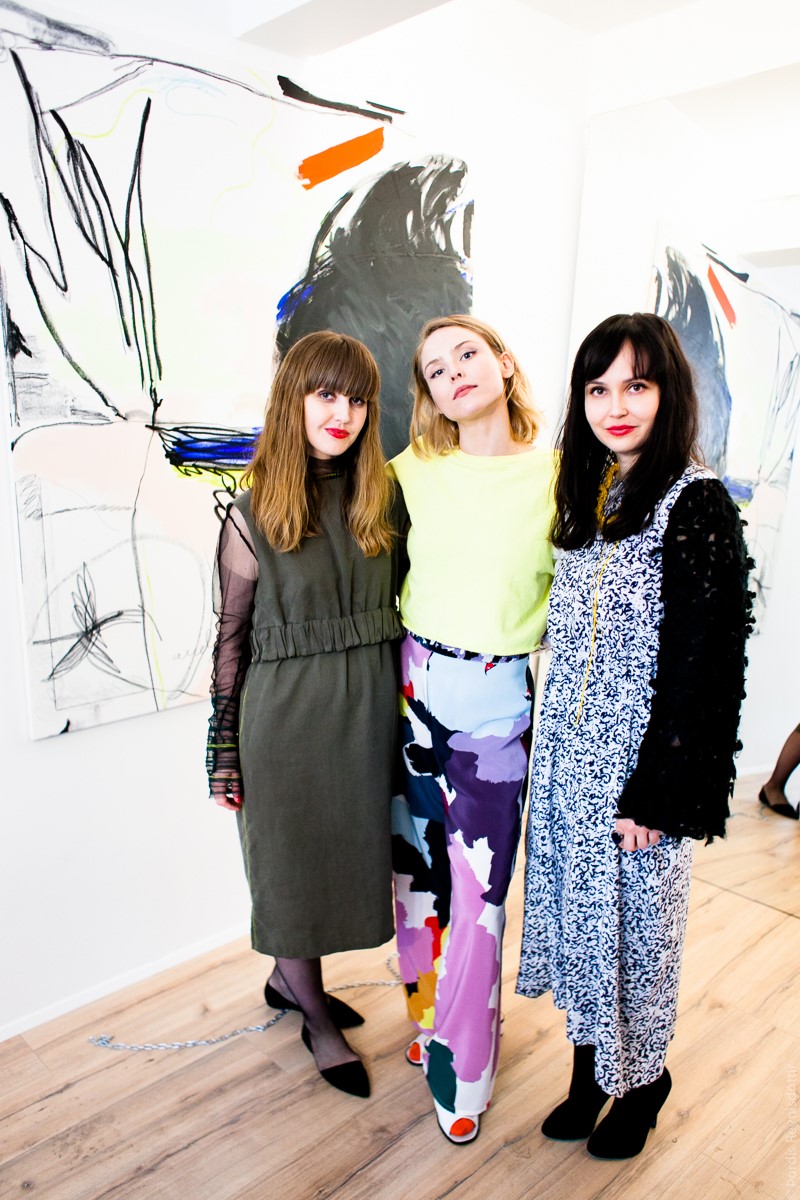 The designer along with artist Auður Ómarsdóttir. Her art will be featured in the space until the end of this month. Photo: Þórdís Reynisdóttir
The designers
Anita and Magnea met while studying in Central Saint Martins, art and design collage in London where they were both studying. Much has happened since then. Only this year they both participated in Reykjavik Fashion Festival (RFF) and were both featured in Italian Vogue.
Magnea was named The Icelandic Designer to watch by W Magazine in 2015 and was nominated for the Iceland Design Award in 2014, as well as being nominated for Grapevine fashion design of the year in 2015 and 2013, as well as a pre-nomination for the 2017 International Woolmark Prize.
Anita Hirlekar has been featured in i-D magazine, Self Service and Elle US. She was recently listed as one of the upcoming Scandinavian designers by Elle DK and featured in Vogue Italia as one of 200 international emerging designers.