Eat and Drink
|
mbl
|
Tue 22 Sep 2015
|
20.00 GMT
|
Modified 25 Apr 2016 13.58
Review: "Like hanging out in a David Lynch film"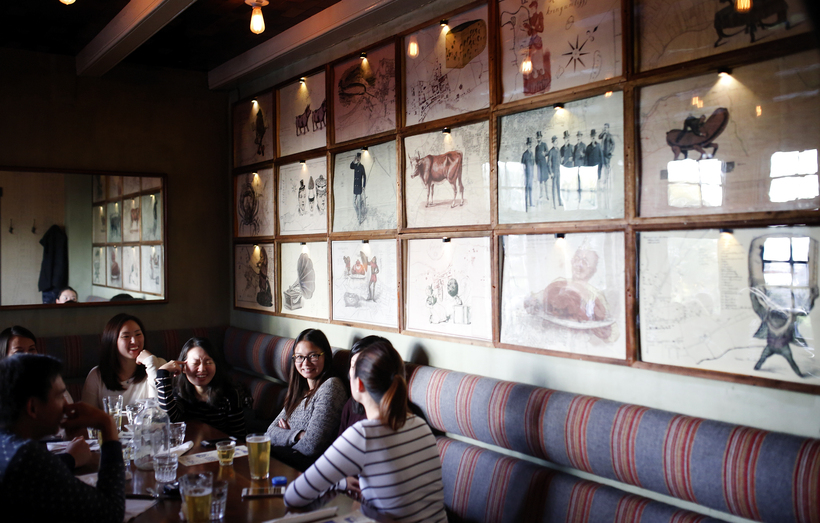 Subdued pistachio walls and creepy drawings at the mysterious nameless pizza place, otherwise known as Hverfisgata 12. Mbl.is/ Eggert Jóhannesson
On Hverfisgata 12 in central Reykjavik is a beautifully refurbished yellow house. The first restaurant in this charming building to open just over a year ago was a pizza place that never received a name. Owned by the same group of people responsible for the hugely succesful and hipsterical Kex Hostel on Skúlagata, the venue immediately attracted the city's hippest urban crowd and for a while it was known as the "Hipster pizza."
Nowadays it's just called "that pizza place on Hverfisgata" or "Hverfisgata 12" and in the same building you'll now also find the Mikkeller bar and one of Reykjavik's finest restaurants, Dill.
What's particularly charming about Hverfisgata 12 is the feeling that you're eating at someone's house. There's no obvious sign on the door outside and as you enter it's almost if you're gatecrashing a quiet party. Inside, the feeling of being in someone's mysterious home continues. There are lots of old wooden staircases going up and down, different rooms and different levels. The interiors, like at the Kex Hostel are outstandingly tasteful and cosy at the same time, although Hverfisgata 12 has a bit of a weirder twist.
Strange artefacts that include old clown statues, a mounted deer head and all kinds of beautifully creepy drawings are set in dark lit rooms with forest coloured walls. This adds a peculiar air to the restaurant. It's like hanging out in a David Lynch film, cool and bizarre at the same time. As for the famous hipster factor, this wasn't anything we particularly noted, except maybe for the waitress who had a pierced septum and dyed silver hair.
I've previously frequented Hverfisgata 12 for their absolutely outstanding cocktails. It's not really a cocktail bar at all but they have a fantastic cocktail barman, a small bar and an even smaller selection of cocktails, all absolutely exquisite. It became my little secret venue (now revealed) to meet up for early drinks and a chat with friends. However, I had never tried out their famous pizzas, or for that matter, anything else on the menu and so on this visit, we decided to taste a few different things.
Our first courses, shared, was beef still on the bone, in sticky sweet gravy and cheese fries, all of this decidedly more-ish, and melt-in-the mouth fried salt cod balls with a spicy mayonnaise. All rather rustic and combined perfectly with the Einstök beer which we had ordered. Next up: the famous gourmet pizzas. We tried three varieties, one was topped with spicy sausage, the second was some sort of potato, mayonnaise and rucola concoction and the third an even more eclectic offering of roast beetroot, walnuts and estragon sauce, all featuring a great sourdough base. Eating pizza here becomes some sort of venture into the unexpected, and looking at the menu I could see lots more unusual ingredients thrown together, including salted cod, apples, pulled pork and eggs and bacon (in no particular order).
I'd definitely reccommend ordering pizzas to share so that everyone gets to try a couple of different varieties. Our verdict: delicious but the most adventurous ones are probably not for anyone under twelve years old.
Another added bonus to this gem of a restaurant is the Mikkeller&Friends bar on the floor above, which serves a huge selection of craft beer on tap as well as all kinds of special beer editions.
Hverfisgata 12, 101 Reykjavik. For more info visit Kexland HERE.