Culture and Living
|
Iceland Monitor
|
Mon 17 Aug 2015
|
14.10 GMT
Stock broker turns yoga teacher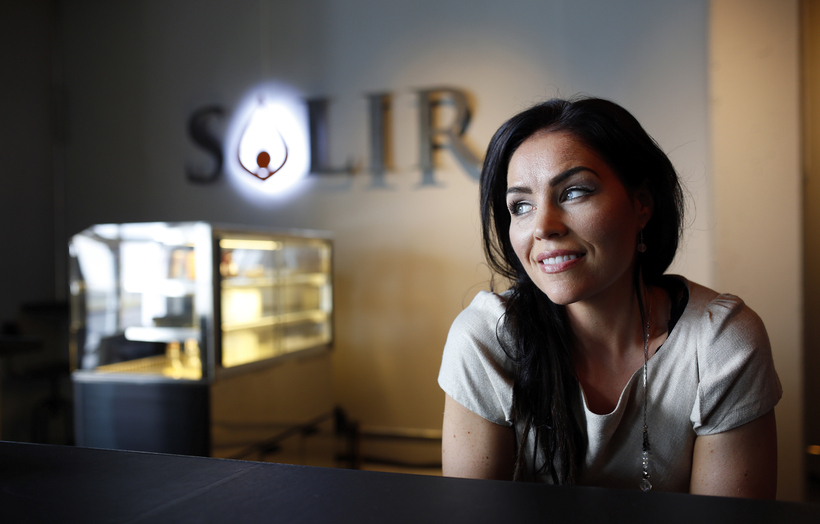 Sólveig Þórarinsdóttir worked at Landsbankinn bank as a broker for ten years. She's now puts her focus on yoga at her new Sólir yoga centre. Iceland Monitor / Eggert Jóhannesson
The new Sólir yoga centre in Reykjavik offers a beautiful sanctuary for practioners of yoga, offering a variety of yoga classes as well as pilates starting from September. The centre puts emphasis on hot yoga, mediation and good nutrition.
Founder and yoga teacher Sólveig Þórarinsdóttir is a former broker who dramatically turned her life around two years ago. "I made a decision to take time out, after an extremely busy decade of education, work and also having three children in the space of five years," she explains. "I fell in love with hot yoga, went to Asia to do a teaching course and then started teaching here in Iceland. Last autumn I published the book Jóga fyrir alla (Yoga for everyone) which got a fantastic reception. In the last year I've worked hard at opening my new yoga centre, Sólir, the first of its kind in Iceland and I'm very proud of it."
Sólir is located at the central harbour area of Grandi in Reykjavik, inside an old fish factory. "I think that there are at least four thousand people in Reykjavík who practice yoga on a regular basis, and that number is growing," Þórarinsdóttir explains. "I sensed a great demand for a place that was like a home away from home, not a traditional gym but more of a health temple, and that's what Sólir is like. It's a centre where you can find everything in one place: yoga, meditation, courses, yoga merchandise and healthy food." The centre offers hot yoga, Ashtanga yoga, Kundalini yoga and Yoga nidra and this autumn, pilates classes will also take place. Those without a card to the centre are welcome to pop in for single classes and Þórarinsdóttir says that a lot of tourists to Iceland have stopped by this summer to enjoy a yoga class.
"There are so many fast-track solutions to health and diet in the modern world. Yoga is not a fast-track solution. It's a philosophy that focuses on building up mental and physical strength, regardless of what shape that person was in to begin with, and which embraces humility for the whole process. We have over 30 classes per week and everyone should be able to find something to suit them. "
Þórarinsdóttir explains that she's undergone a considerable change in the way she thinks about such matters. "Although I've always practiced some kind of sport I cared mostly about how I looked. In my twenties I llived life at a fast pace. I ate junk food, slept little, went clubbing whenever I could. I ignored the signs from my body that I wasn't going in a good direction and made myself believe that I was fine just because I was slim. " She says she has never regretted her decision to quit the financial world and turn to yoga. "I miss absolotely nothing about my old lifestyle. I can feel it in every bone in my body that this was the right decision. And having a business background is obviously very useful when it comes to running a yoga centre. I don't believe one makes any mistakes in life, what I am now is a sum of all that I've experienced in my life. I'm very thankful. "
A drop-in-class at Sólir costs ISK 2,200 . Visit the Sólir website for the class schedule HERE.
Mats are available but guests are asked to bring a towel to hot yoga classes. The changing rooms offer showers and valuables can be placed in lockers at the front desk.