Culture and Living
|
Iceland Monitor
|
Thu 26 Mar 2015
|
11.08 GMT
Hot-dog inflation!
Locals, expatriates and holiday-makers alike must all be familiar with Iceland's national dish – hot-dogs will all the trimmings ('pylsa með öllu' in Icelandic). The hot-dog sausage is served in bread and liberally accompanied with fried onion, raw onion, mustard, ketchup and remoulade (a cold sauce made with mayonnaise and various condiments and herbs). This delicious snack is traditionally washed down with copious amounts of Coca-Cola.
Hot-dogs up, Coke same price
Baldur Ingi Halldórsson, Director of Bæjarins beztu pylsur (BBP), one of Iceland's leading purveyors of the national snack, has announced a rise in prices due to recent changes in the Icelandic VAT system. The price of one pylsa með öllu has risen by ISK 20 to ISK 400 (approx. €2.70).
Luckily though, patrons wishing to experience the whole gastronomical experience, i.e. hot dog and Coca-Cola, will not have to fork out any more for their fizzy drink. Thanks to the simultaneous scrapping of the so-called 'sugar tax' in Iceland, BBP has not had to raise prices there.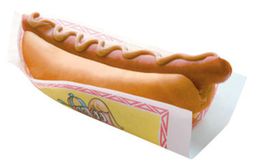 Hot-dogs with all the trimmings is one of Iceland's most popular fast-food snacks. Photo: visindavefur.is
One 'hot dog and Coke' now costs ISK 600 (approx. €4). This new round figure has the advantage of making paying and change-giving easier for both customers and staff.
Business booming
Despite a total price rise of ISK 80 since 2007, business is booming and BBP's main vending van in central Reykjavik sees an almost constant queue of hungry customers.
"We can't complain – we are constantly receiving more and more custom from tourists and Icelanders have not lost their taste for their pylsa með öllu," says Halldórsson.