Born in the slaughterhouse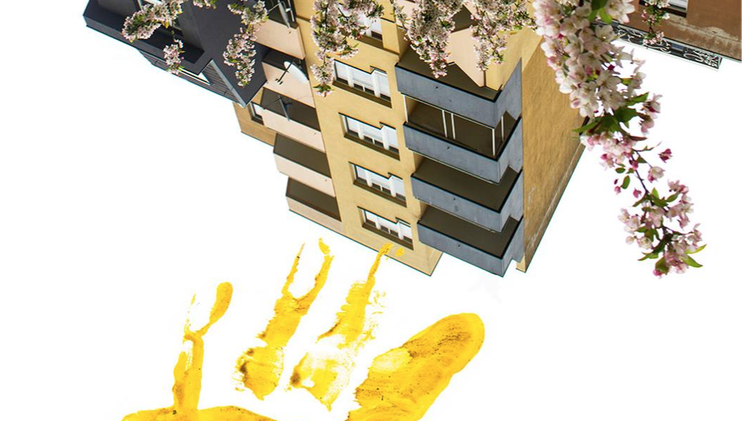 Born in the slaughterhouse – an exhibition of nine artists from Iceland, Germany, Syria and Madagascar – will open on June 17th 2017 at 15:30 in Sláturhúsið (The Slaughterhouse), cultural institute in Egilsstaðir. The show is one of the institute's three summer exhibitions which will all open on this day.

The nine artists work with various media – including painting, video, audio, performance and sculpture. The otherwise independent works are linked via the term "basic needs," which was brought up for consideration at the beginning of the creative process. The artists were cordially invited to address it – or not – each in her or his own manner.

The contributing artists are Alina Amer, Berglind Ágústdóttir, David Zehla, Freyja Eilíf, Katrína Mogensen, Snorri Páll, Steinunn Gunnlaugsdóttir, Trixi Szabo and Una Sigtryggsdóttir.

Carcasses of various kinds will hang from the hooks – magical and whimsical, benign and pernicious, some from the upper atmosphere, others earthly, other even deep down from the innards, some still crawling, others already paralysed, some fully processed long ago, others shaped by the location, its soil and surroundings, its weather and encompassing energy.

One can except a playful twist on human violence and the destruction drive; a mass-produced past snapshot from the prison cell of an excommunicated Mensch; the corporeal relations and/or conflicts between sisters Passivity and Control; a study of the complexity-layered association of the individual and society; a tableau of the fallen angel's yearning for spontaneous beauty – and for wings to build bridges between universes; and that very basic need – of the abstract and objective being – to tell and be told stories, preferably good ones. Unexpected objects might additionally occur and adapt to structures already there – slyly entering the building's holes and niches.

The exhibition runs until September 15th 2017.

Sláturhúsið is open from Tuesday to Saturday between 11:00 and 16:00.

The exhibition is supported by the Austurbrú institution and the Gunnar Gunnarsson Culture Fund.

– About the artists –

Alina Amer was born in Odessa, Ukraine, moving early on to Syria where she graduated from the Architecture and Urban Planning Faculty at the University of Damascus in 2012. She then moved to Beirut, Lebanon, and from there to Berlin, Germany, where she lives and works as an artist today.

Berglind Ágústdóttir is an artist and musician. She graduated from the Iceland Academy of the Arts in 2003 and has since exhibited widely, in Iceland as well as abroad, curated art events and concerts, published and performed her music worldwide, and produced experimental radio series.

David Zehla was born in Antananarivo, Madagascar, but headed to France in 1999. Since moving to Iceland in 2013 he has worked as a dishwasher, ship-painter and carpenter, besides exhibiting his art, e.g. in Týsgallerí and Ekkisens. He looks at himself as an ordinary citizen and unknown painter.

Freyja Eilíf is a self-employed artist who graduated from the Fine Arts Faculty at the Iceland Academy of the Arts in 2014. She has since exhibited her works widely, in Iceland and abroad, in addition to running the Ekkisens art space in Reykjavík. She is the founder of Listvísi art magazine.

Katrína Mogensen graduated from the Fine Arts Faculty at the Iceland Academy of the Arts in 2014. She has been involved in various exhibitions and other art projects, e.g. in Algera Studio and Reykjavík Dance Festival, as well as singing, composing and writing lyrics with the band Mammút.

Snorri Páll is a poet, musician and artist. He is the founder and prosecurator of long term nontemporary archival art project – The Museum of Criminal Remnants – the first exhibition of which occurred in Ekkisens during the run-up to Easter 2016.

Steinunn Gunnlaugsdóttir is an artist and a wandering woman. Her works of various media have appeared here and there, round and about. She has organized events, exhibitions and happenings – and summoned the nine artists in the Slaughterhouse because of her belief in magic and miracles.

Trixi Szabo is an instant operator.

Una Sigtryggsdóttir graduated from the the Iceland Academy of the Arts in 2015 and currently reads philosophy at the University of Iceland. She has recently had solo exhibitions in art spaces Ekkisens and Anarkía, as well as partaking in several group shows, e.g. in the Harbinger gallery.
INFORMATION
WHEN
This event has passed or has no registered occurrences.
WEBSITES
LOCATION