A colour map of Icelandic wool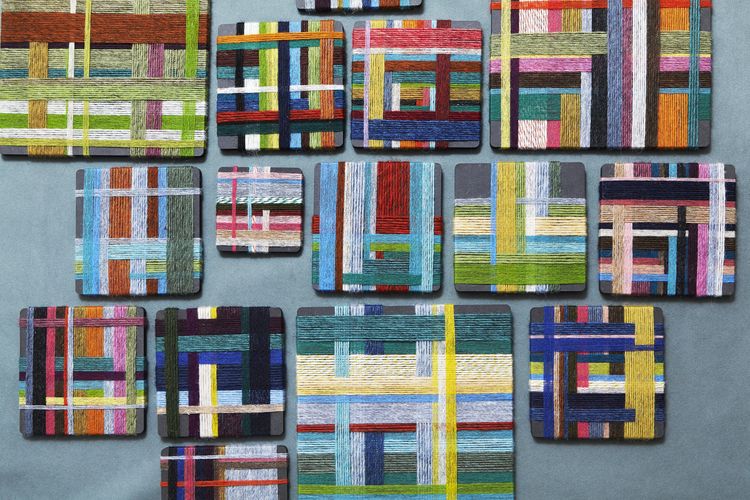 A colour map of Icelandic wool
We invite you to the opening March 22nd 17:00, with refreshments and a possibility to meet the artist.
This project is a collaboration between the Icelandic textile company ÌSTEX and textile designer Astrid Skibsted.
The intention with the textile installation is to display the beautiful, rich colours of the icelandic wool in a pure and inspiring way. Astrid's hope is to share her enthusiasm for the material and bold use of colour combination.
The technique is simple windings of yarn on wood which gives a graphic and pure expression The yarn is set free of any practical purpose and bindings, as opposed to knitted or woven clothes. This results in a pure expression, where we fully can experience the depth of colour in the wool and the calming repetition of hundreds of threads placed by hand.
The muse for this project is the famous icelandic painter Lovisa Mattíasdóttir and her colourful interpretations of the icelandic landscape. Astrid has translated her paintings into yarn and developed new variations over her colour themes.
About the artist
Astrid Skibsted, cand. design, is a textile designer and artist based in Aarhus Denmark. Her main focus is weaving, textile design, interior design for the commercial market and textile art and installation. She has her own studio and works independently or in collaborations with various companies. For the last 14 years she has been closely connected to Iceland through her icelandic partner Jón Árni and their icelandic/danish family.
INFORMATION
WHEN
This event has passed or has no registered occurrences.
WEBSITES
LOCATION